Published on 14th May 2020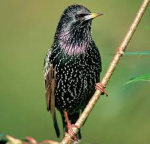 Now is a wonderful time to start watching and supporting our feathered friends. It is even a great time to listen to them, given that the noise from traffic on our roads and the skies is much reduced. Seagulls in particular, are very plentiful at the moment, and it sometimes seems as if they are the only birds around.However, there are also plenty of sparrows, starlings, robins (everyone loves a robin) and many other small birds around. What is even better is that many of them have nests with chicks, some of whom have already fledged, but many still not quite hardy enough to leave the safety of their cosy nest.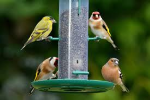 It is likely that some of these have nested near your home, regardless of where you live. So whether you live in an apartment, a house or a in an isolated, rural location, keep your eyes and ears open. If you are interested in trying to identify the different birds you might come across, www.irishgardenbirds.ie has a nice user friendly guide to the top twenty most common birds.
Press Reader has some great wildlife magazines and all FREE to Dublin City Library members. BBC Wildlife magazine for example is always full of information, not just about birds, but all kinds of animals. Birds and Blooms is another terrific magazine free to our members, and is especially good if you want to encourage more birds into your garden. To access these register for Press Reader, sign in with your Dublin City Library card and you're ready to go. Watch our handy how to video.
And let's not forget our very own Birdwatch Ireland. They have wonderful tips and information on www.birdwatchireland.ie. We were fortunate enough in Finglas Library to meet some of their Dublin Tolka branch, when they paid us a visit on Libraries Open Day on February 29th. So, there is no excuse! Get watching, listening for and learning about our feathered friends with Dubin City Libraries.
Submitted by Maeve from Finglas library.