Playing Catch Up with Some Crime Reads
Published on 10th January 2014
It's been some time since I last posted about crime fiction, November it was, in fact I last reviewed my own reads on the 7th November. So time to catch up, not another moment to be lost! I have in fact been reading away, and here I am going to mention five books I read before Christmas, and unusual enough for me, it is my second time to read one of these. That book is 'Echo Park' by American Michael Connelly, while I will also mention two books by Sweden's Hakan Nesser and a book each by Italians Andrea Camilleri and Maurizio De Giovanni.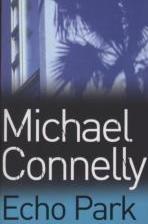 Though I missed Michael Connelly's visit to Dublin in late November, I thought it a good time to revisit his Harry Bosch series, it being some time, years even, since I had last read him. My choice was 'Echo Park'

, for no particular reason other than it being ready to hand. 'Echo Park' was first published in 2006 and is the 12th in the series featuring Los Angeles detective Harry Bosch. In it a convicted killer is ready to admit to a killing thirteen years previously as part of a plea bargain to avoid the death penalty, a case Harry was involved in but which remained unsolved. Harry over the years had revisited the case time after time to see if any further progress could be made, but never to any avail, despite his resolute belief in the guilt of one particular suspect. And now this new development suggests that his long time chief suspect was innocent all along.
Not the most riveting of reads this police procedural, for me it lacks a certain atmosphere and is a bit formulaic. That said the plot is well enough constructed, but character development is not very strong, Bosch included, mores the pity. Depth of character I like, but it ain't here. An ok read at best, but nothing memorable. I had given this 4 stars first time around but found myself downgrading that slightly to 3 on a second reading, maybe the result of having read a lot of superior crime novels in the interim.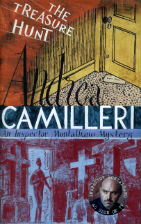 Next to an old favourite, Italy's Andrea Camilleri. 'The Treasure Hunt'

 is the 16th and latest in the wonderful Sicilian-based Inspector Salvo Montalbano series from Camilleri. In this Montalbano, after a strange incident involving a blow-up doll (!) and a shoot-out with an elderly couple (!!), receives a letter containing a riddle, the first of several that serve to mystify and intrigue him, and which instigates the "treasure hunt" of the title. He also has an avid young fan who as a student of human behaviour wants to observe Montalbano and study how his mind works in his approach to crime solving. In the main investigation, Montalbano is challenged to find a young girl who it would appear has been snatched right off the street, and her disappearance quickly gives major cause for concern. Montalbano's beautiful Swedish friend Ingrid makes an appearance here after an absence, much to the irritation of his mainland-based girlfriend Livia when Ingrid happens to answer Salvo's home phone when Livia calls. Livia's own appearances unfortunately yet again are ever so brief and only by way of a phone conversation or two. I implore upon Camilleri to feature Livia far more in the next book!
The Inspector Montalbano books are in large part very different from many crime novels I come across. Far from being dark, gritty and violently graphic, as for example so many of the Nordic crime novels might tend to be, Camilleri's books are humourous, downright comic at times, generally light in tone and largely free of overtly descriptive scenes of violence. However in saying all of that, the latter stages of this story are somewhat darker than the Camilleri norm, which I have to say surprised me somewhat. And maybe disappointed me a little too if I am honest. But let me not end mention of this book on anything like a negative note! I love too in this series the quirky characters, the sense of mystery that is often prevalent, the beautiful Sicilian landscape that features so much, and the attention given to the local cuisine and the lives and lores of the local population. You can almost feel the warmth of the Sicilian sun on your skin as you read! So get reading!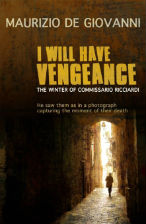 'I Will have Vengence' 

 is my first encounter with Italian writer Maurizio de Giovanni, and on the basis of it I look forward to starting 'The Crocodile', which lies close to hand awaiting my attention. Commissario Ricciardi is an effective investigator, if a solitary-type figure, based in Naples in the fascist 1930s, and together with his loyal assistant Maione he investigates the murder of a famous if much disliked Italian opera singer, found dead in his dressing room during a public performance. The victim was apparently a favourite of Il Duce, so the pressure in on Ricciardi from his superiors for a speedy resolution. This of course poses a problem for Ricciardi in resolving the matter to his own satisfaction, for he is far from convinced by the solution that initially presents itself. Ricciardi is resolute in his attempts to see justice prevail, but as the complexity of events begins to unfold, you begin to wonder how that might happen. A twist in the tale is called for you feel, but is there one?
Ricciardi is an enigmatic but likable character, the nature of which will add considerably to your interest level in this book. He is a wealthy aristocrat who leads a rather solitary existence, he sees the ghosts of those who have died violently, he has an admiration that borders on an infatuation for a neighbour who he has never met but who he likes to observe each evening as she sits embroidering by her window, and he wears a hairnet to bed. Furthermore, he has no time for the pretentiousness of some of those he encounters during his investigations, something that marks him out as an anti-establishment type figure, which in 1930s fascist Italy one might think could be to his disadvantage.
I would have welcomed a little more of a sense of fascist Italy and Naples in the 1930s, but that is my only quibble, my being greedy. This is a relatively short, slow-paced book, but one I think you will enjoy. I know I did.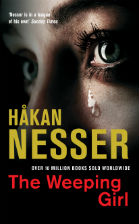 The Van Veeteren series from Sweden's Hakan Nesser consists of ten titles published between 1993 and 2003. The series is set in a fictitious country, probably northern European, which differentiates Nesser from other crime writers, at least those I have read. So far all but the last book in the series have been translated into English, with some of the earlier titles translated out of sequence. The odd thing for me, and something the reader needs to be aware of, is that Chief Inspector Van Veeteren himself does not feature very much in a number of the books, from book six (The unlucky Lottery) in fact, as by then he has retired. Book nine (The Strangler's Honeymoon, see below) does see him play a greater part, but he only makes a cameo appearance in the eight book in the series and my most recent read, 'The Weeping Girl' 

 (publ. 2000, English transl. 2013).
Instead it is Detective Inspector Ewa Moreno who features most prominently in 'The Weeping Girl' as she becomes involved in the case of a missing girl while she is supposedly on holidays with her boyfriend. Supposedly I say because she seems to find it very hard to drag herself away from her work, whether it be by choice or circumstance. Moreno is a dedicated, compassionate, resolute police officer who finds it difficult to subdue her curiosity and her desire to investigate. On the train journey to her holiday destination she meets a young woman who is on her way to meet her father for the first time after finding out about him on her 18th birthday. He, a former teacher, is now in a psychiatric unit having been convicted of the murder of a female student some sixteen years before, a student he had a brief affair with. Soon after meeting her father the girl goes missing, and soon after that the father too. A body soon shows up and the mystery surrounding the events present and past is too much for DI Moreno to ignore.
Then too there is a sub-plot concerning a villain who has information that suggests that a colleague of Moreno's is a paedophile, and it is this story that allows Van Veeteren to make his cameo appearance; in fact it is difficult to see what other reason the sub-plot serves, as to my mind it adds little in anything to the storyline. This sub-plot could have got a lot more attention for it has the potential to be an interesting story of itself.
A further sub-plot concerns Moreno's personal life and her difficulty in having one, probably made all the more so by her reluctance to commit. If you are expecting anything new or surprising in regards to how this aspect of the story is dealt with, don't, you will be disappointed. The path that this particular relationship takes mirrors that of many police officer relationships in crime novels, exceptions noted.
Yet there are surprises in 'The Weeping Girl', it is far from predictable (bar on the relationship front), and you will likely be kept guessing 'til the end. Nesser is generally good on atmosphere and characterisation, but this book did not quite hit the heights of others such as 'Borkmanns' Point', 'Hour of the Wolf' and 'The Strangler's Honeymoon' (see below). Nevertheless, if a Nesser fan, I think you will enjoy it well enough.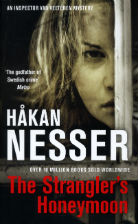 Quick on the heels of 'The Weeping Girl' is 'The Strangler's Honeymoon' 

, the ninth in the Van Veeteren series, and this only serves to solidify Nesser's position amongst the cream of European crime writers. His stories are invariably well plotted, intelligently constructed, perfectly paced and nicely written. And always satisfying. This one is no different. In this, a teenage girl has an affair with her mother's lover, but when she disappears and a woman is found murdered there is a race against time to find the killer before he strikes again. For it looks like he has struck before. But there is no trace of his existence, and the investigation seems to be going nowhere fast. The story starts with an event some years before, and the tie-in of events past and present is well worked. Van Veeteren himself is now retired and running his antiquarian bookshop, but when a priest who calls on his assistance falls under a train before he can actually enlighten Van Veeteren, his investigative skills are again called upon, a link having been made between the at first seemingly separate events. Van Veeteren is not your usual detective with personal troubles and a solitary lifestyle, but a character of wit, intelligence and good taste. Other characters too you will find interesting, none more so than DI Ewa Moreno, who I wanted to feature even more in the story than she in fact did. The killer is one who will send a chill down your spine, his own personal story and his coldness make certain the fact that he must be caught before more deaths ensue. This is probably the longest of the Van Veeteren novels, but your interest you will find will never wane. Enjoy, I did!
'Til next time, enjoy your reading!