Poetry, Prose and Music at Pearse St Library
Published on 16th December 2015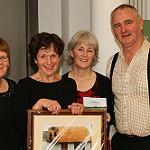 On Wednesday, 9th December, in Pearse Street Library, we had the dual pleasure of listening to members of Clogh Writers' Group reading a selection of their writings, poetry and prose, and music provided by the Carlow Ramblers. Indeed the Ramblers put on a set dancing performance as well!
From a village in north Kilkenny, The Clogh Writers' Group have published a number of anthologies, namely Only Wanted Andy Brennan (1996), From the Heart (1997), The Echo of Familiar Voices (2000) and most recently Kilpatrick (2014) .
You can view below the photo slideshow from the event in Pearse Street Library.
View the photos on flickr. Photos provided with the permission of Seamus Massey, Photographer
What a great event! Many thanks to the Clogh Writers Group and the Carlow Ramblers.