Popular crime titles from Pearse Street Library
Published on 3rd December 2019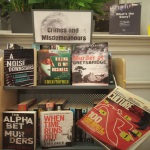 A staff member reviews our most borrowed books from the Crimes and Misdemeanours section, one of our most popular sections, and we include links to the catalogue perhaps nudging you towards making an inspired selection. These books can also be found in our Crimes and misdemeanours book displays. If you'd like to borrow any of the books discussed below, simply click on title to be taken to the reservation page. You will need your library card and PIN to browse our catlaogue.
The Alphabet Murders - Lars Schütz No.5
3☆
After a body of a brutally murdered man with an "A" tattooed on him is found in a wildlife park, criminal profilers Jan Grall and Rabea Wyler are thrown into a brutal game of cat and mouse. Later, more people are found with letters tattooed on their skin - it's obvious that this serial killer loves his ABCs and won't stop till his set is complete.
I liked the concept of this story. I thought it was inventive, and I hoped the story reflected that too, but I was sorely disappointed to find out that it wasn't.
Killing is my Business - Adam Christopher No.4
3 ☆
This book is a sequel to "Made to Kill" by Adam Christopher. It's about an alternate universe set in the 1960's, LA Noir style. Or robot LA Noir style. This is about the last robot left in working order in the world - our protagonist Raymond Electromatic, a former private investigator turned hitman. I liked the mashup of Sci Fi and Noir. If you're a fan of either one of these genres, this is a good book for you.
Murder at Greysbridge - Andrea Carter No.3
4 ☆
Solicitor Benedicta O' Keefe has been invited to her friend Leah's wedding, at the newly restored Greysbridge Hotel - the perfect paradise with a private beach and a stunningly beautiful pier. But the festivities are cut short when a young visitor staying at the hotel drowns in full view of the wedding guests. As more and more deaths occur, Ben finds herself and her fellow guests at the center of a murder mystery.
I would highly recommend you reserve this if you're a fan of Agatha Christie's or love a good old-fashioned murder mystery.
A Noise Downstairs - Linwood Barclay No.2
4☆
Eight months ago, Paul Davis discovered two dead bodies in the back of his co-worker Kenneth's car. After he attends therapy, at night things get much worse, he starts to hear things. Paul thinks he's losing his mind. Is he? Or does someone want him to believe he is? Gripping and hard to put down.
The Death House - Sarah Pinborough No.1
5☆
Taken from his family, our young protagonist Toby now lives in what is now called "The Death House", an out-of-time existence far away from our own existence, where he and others like him are carefully studied for any sign of sickness by the mysterious and spine-chilling Matron and her team of "nurses". As soon as they show any sign of sickness, they are taken to the sanatorium. No one returns from the sanatorium. Five stars.