Published on 3rd November 2014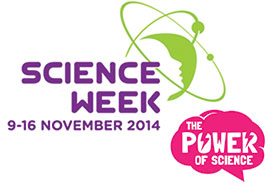 The power of science is all around us. We see, hear, touch, taste and experience the wonder of science every day. Thanks to the power of science we can improve our health and wellbeing, explore new worlds, and make our world a better place; the only limits are those we imagine!
Co-ordinated by SFI Discover the education and public engagement programme of Science Foundation Ireland, Science Week officially runs from 9th – 16th November 2014. Dublin City Public Libraries will host our Science Week Programme over two weeks – because we just can't fit all our fantastic workshops and lectures into just one week!
Children can experience hands-on science with the Rediscovery Centre, ECO-UNESCO, Michael Moylan's Science Show, Dale Treadwell, SEAI, Dublin Zoo, Birdwatch Ireland, Green Schools, Water Conservation and Ingenious Ireland. After-school events with Michael Moylan and Dale Treadwell offer a chance for all the family to take part in Science Week.
Would you like to meet a real Astronaut? Greg Johnson, veteran of two space flights aboard Space Shuttle Endeavour, will talk about his space experience on Thursday 13th November at 1pm in Ballyfermot Library. (Children and adults welcome. Book a place at the library).