Rathmines Library on the UP!
Published on 26th August 2011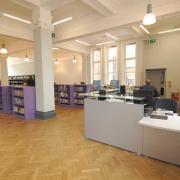 Rathmines Branch Library re-opened after extensive refurbishment on Tuesday August 2nd, 2011. Improvements include the provision of a lift, a user friendly self-service system, accessible public toilets, upgraded lighting and heating, improved signage, new shelving and a new accessible public counter. Plus, the library has been fully repainted and many of the original features have been restored to their former glory.
Rathmines Library, one of 21 Dublin City branch libraries, first opened to the public in 1913, one of over 60 public libraries in Ireland built with the financial support of Andrew Carnegie.
The refurbished library offers access to a collection of 50,000 items including books, audio and MP3 books, large print, DVDs and reference material for all ages. While books continue to be at the heart of services offered at Rathmines Library, as is befitting of a 21st century library service clients can avail of free Internet access (including wi-fi), computers, study and research facilities.
The access improvement works were undertaken as part of Dublin City Council's Implementation Plan under the Disability Act, and were co-funded by the City Council and the Department of the Environment, Community and Local Government.