The Reading Room - what would you put in?
Published on 4th March 2012
Have you ever speculated which books you would bring with you to a desert island? (I've always thought that should be 'deserted' not 'desert' but perhaps it's an obscure grammar point I don't get?) As part of the Re Think + Re Act Exhibition, Pivot Dublin have set up a Reading Room in Filmbase in Temple Bar, Dublin. They invited readers in Dublin to submit their favourite book to be displayed in the Reading Room during the exhibition. 
My choice? 
The three girls in my family got together to raid our groaning bookshelves and share our favourite books with Dubliners at the Reading Room. Come along and see if you can find them.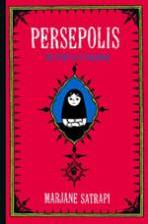 Persepolis: The Story of a Childhood and the Story of a Return, by Marjane Satrapi - all three of us love this book. It's a graphic novel that tells the story of one girls experience in pre and post revolution Iran. It's funny and sad and infuriating and brilliant. It was made into an excellent animated film by Vincent Paronnaud and Marjane Satrapi.
An Chanáil, by Marie-Louise Fitzpatrick - one of the very few children's books that depicts an accurate, modern (relatively) urban Dublin. This is a very special book, unfortunately now out of print. If you live anywhere between the two canals, take a close look at this and inhabit the streets along the Grand Canal in a new, virtual way, while sharing the story of a child and a lost dog. 
The Tin-Pot Foreign General and the Old Iron Woman, by Raymond Briggs - we show this book to everyone who comes into our house, and then sit back and watch their reaction. Have a look yourself and see the genius of the creator of the (much more famous) Snowman in a much darker mood in this savage political satire and heart-breaking anti-war picturebook that defies categorisation, but is definitely not for young children. The book was created in reaction to the Falklands War and the two main characters are thinly disguised versions of the Argentinian General Galtieri and Britain's Prime Minister Margaret Thatcher. A perfect example of 'Re Think, Re Act'. 
This is Ireland, by M. Sasek - This is part of a series, which includes 'This is London', 'This is Paris', 'This is Edinburgh' and 'This is New York' - published over fifty years ago but re-issued in the original format with some updates at the end. They are a kind of time-warp Pathé News style 'best bits' travelogue of each place. For some strange reason 'This is Ireland' highlights Kilbeggan and its distillery as one of the highlights of Ireland - maybe the writer had a granny from Westmeath! 
Mister Magnolia, by Quentin Blake - almost anything by Quentin Blake could have been included here, but Mister Magnolia has a special place in our hearts. When children are very young they often insist on the same story being read again, and again, and again, and ag...you get the drift. This is when a well written, brilliantly illustrated and consistently amusing story is worth anything you have to pay for it. This is one I never got bored with - even when daughter number one would ask for it just 'one last, last, last time'. Quentin Blake is probably best known as the illustrator of Roald Dahl's stories, but he has proved time and time again that he can write his own stories too.
Horrible Histories: Ireland, by Terry Deary - this one was chosen by the younger members of the household, but who am I to argue with them? History with all the good bits left in! And, unlike one or two of my other choices, at least it's easily available.
A Monster Calls, a novel by Patrick Ness, from an original idea by Siobhan Dowd - this book has been deservedly chosen by so many people as one of the best childrens books of recent years, in fact, one of the best books of recent years. It's about facing up to impending bereavement and making the best of flawed but emotionally 'good enough' relationships. I got my (adult) Book Club to read it last year and they were stunned by its integrity and emotional power. It may be written for children, but it doesn't talk down to anyone. 
Kissing the Witch, by Emma Donoghue - Dublin born, Canada based writer Emma Donoghue had a small but loyal following until the Booker Prize-winning novel 'Room' catapulted her to international literary stardom. Emma wrote 'Kissing the Witch' in 1988, long before 'Room' - it's a collection of fairy tales, re-worked from a feminist perspective. Sound dull? I suppose it's not everyone's cup of tea, but I really, really love this book. Actually, this is a perfect 'Re Act, Re Think' book too because each story completely re-imagines a well known fairy tale; Sleeping Beauty, The Little Mermaid, Cinderella etc. Emma retells each story in her elegant, exact, poetic prose, but this time we go beyond the archetypes of the stories to the reality of their situations, for example, in this version the Little Mermaid ends up, not as foam on the waves, but as a 'ruined woman' when her prince rejects her love for a more suitable match. Each linked story has a 'pivotal moment', usually when the heroine rejects the advice of her older and wiser sister - now, if she'd only listened to that witch... We are all doomed to ignore the witch though - until we become her!
That's all folks! Well, you didn't really expect me to choose just one book, did you?
Now...what would you choose?