Published on 25th June 2013

So here we are post-boom, with lighter pockets and tighter belts. What to do? Drop in to your local  library for a few ideas on how to make a little go a long way.
Firstly, save yourself the cost of visiting a financial advisor by taking out Andrew McCann's Know your rights: a practical guide to living in challenging times. It explains taxation, social welfare, redundancy, state pensions, illness and disability, inheritance – a mine of hugely useful information on your rights and entitlements.
Next, learn how to reduce your outgoings with Saving energy in the home, part of the popular Teach Yourself series, which shows you how to cut your energy bills in the house, garden, and on the road.

Avoid having to hire carpenters, plumbers, or glaziers by learning how how to do it yourself with Good Housekeeping's 101 DIY fixes. It covers everything from wallpapering to dripping taps to carpet-laying to repairing brickwork.

Grow your own with Allotment gardening by Susan Berger. Allotments are increasingly popular, and, for the price of a few packets of seeds, you can provide yourself with fresh, organic, home-grown veg.

Once you've grown the veg, learn how to make it go further with Shrewd food by Elizabeth Carty, who describes how to shop for, store, and cook good food without spending a fortune on it. It includes a lot of Irish recipes as well as ones from further afield.

Combine economy with creativity, individuality, and the satisfaction of learning a new skill with Eithne Farry's Yeah! I made it myself, described as DIY fashion for the not very domestic goddess. Learn to make clothes from scratch and how to customise thrift shop finds.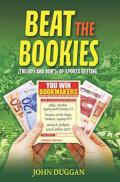 Finally, once you've claimed your tax back, changed all the light bulbs, fixed the leaky tap, grown and cooked the spuds, and made yourself a fabulous new top, have a bit of a flutter on the gee-gees and hopefully win a bit of pocket money. But before you place your bet, take a look at Beat the bookies, John Duggan's guide to the dos and don'ts of sports betting. Highly recommended, and a great read!