Recommended on BorrowBox - Wilding by Isabella Tree..
Published on 1st April 2020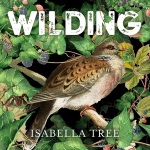 Please read on for a listening recommendation from our colleague Eileen. One of the many perks of working in a library is that it's like being in a constant book club, all kinds of books are at hand, books that you would never dream of buying or looking at. I have discovered so many books by just holding and looking through what our borrowers have returned. As George Martin wrote in one of the Game of Thrones titles, a man who reads lives a thousand lives.
I saw this book when it was returned to the library and I liked the cover (yes, we all judge a book by its cover, it's been proven that it makes it easier to choose what you like). So I flicked through it and I liked the pictures (yes I'm very shallow) of deer and flowers and wildlife. I thought I'd bring it home as I was working on a drawing of flowers, and when I started reading it, I was immediately sucked into a family's life of trying to sustain a working farm.
As I progressed my way through the pages, I noticed how beautifully it was written, and so I looked up the author and discovered that she has some highly recommended travel books. So I continued with this book which blends scientific facts and figures with graceful insights into nature, animals and the very soil, which creates and feeds us. This is a must read for any hobbyist gardener, bird watcher, animal lover, any professional botanist, farmer or geologist. Or if you just want a change from fiction, try this non-fiction book. I really can't recommend it highly enough. It's an exquisite odyssey through the very ground we walk on and our part in preserving and respecting it.
It's available on BorrowBox and is ideal to listen to while gardening!
Access eBooks/eAudiobooks on your phone, tablet or reader. Once you have installed the app, search for Dublin in the 'Library' field provided and then sign in using your library membership card number and PIN.
Members of other library authorities will need to access BorrowBox using a different link.