Remembering 1916 - Easter Weekend, a Look Back
Published on 12th September 2016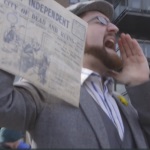 Thousands took to the streets on a glorious Easter Monday in March to remember the 1916 Rising. Dublin City Council was in Smithfield Square with library staff and the Dublin Fire Brigade. We unveiled the Learning Bus with its retro-fit Edwardian parlour, author Lia Mills was on hand to promote "Fallen" the One City One Book choice for 2016 and we were serenaded by the Drum and Pipe band from the Dublin Fire Brigade. Re-enactors from both sides, 1916 Rising rebels and First World War troops, joined us to talk to people about their uniforms and kit.
Watch the wonderful video below. And look out for one of the library staff acting the part of a newsboy!
Reflecting the Rising, Smithfield, Easter Monday 2016 from Dublin City Public Libraries on Vimeo.
This look back over some of the events commemorating the 1916 Rising is also a reminder that there are events still to come, most notably the Dublin Festival of History (23 September to the 8 October 2016) and the many 1916-related events included in its extensive programme.