Published on 25th November 2016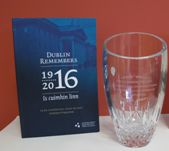 At the Chambers Ireland Excellence in Local Government Awards last night Dublin City Council won the "Commemorations and Centenaries 2016" award for its Dublin Remembers 1916-2016: Is Cuimhin Linn programme. Dublin City Public Libraries staff were delighted to accept the reward on behalf of all sections and colleagues in Dublin City Council who made the centenary year of the 1916 Rising in the capital such a memorable one. Within Dublin City Council the Commemorations Committee, the Lord Mayor of Dublin, Dublin UNESCO City of Literature, Dublin City Gallery The Hugh Lane, the Arts Office, Richmond Barracks, Events, Planning, the Heritage Office, City Hall, Community and Social Development, Environment and Transport, Parks, Dublin Fire Brigade all contributed to this extraordinary and award-winning project.
It was a privilege to work on this project - we unveiled plaques, curated exhibitions, hosted drama and music sessions, held talks, walks and films, funded community groups to celebrate history, facilitated the national Ireland 2016 initiatives, dressed the city for the ceremonial parade at Easter, dressed in costume for Reflecting the Rising on Easter Monday, published books, refurbished buildings and so much more this year in libraries, community spaces and on the streets of the capital. And at the end of it all, we have gathered documentation and photos to ensure that the city's archives have a record for posterity of this momentous year in our history. 
Tara Doyle, Senior Librarian, Dublin City Public Libraries and Archive