Remote access to business library databases
Published on 11th June 2020
Until the temporary Covid 19 closure, the Business Library in the Central Library offered library visitors access to many valuable e-resources. Following discussions with our suppliers, library staff are now in a position to remotely access several of these databases. In the past library users undertook their own research in the library. In this new situation, detailed below, library users email questions to the business library staff who will then search the databases listed for useful answers. We are pleased to be able to restore an important part of the service we offered in the Business Library, and we will do our best to answer your queries.
Mintel: covers Irish consumer reports.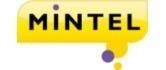 Mintel is one of our most popular databases. We have a subscription to their Irish consumer reports. It's a resource that entrepreneurs and students regularly travelled to the business library to use. We find these reports are particularly useful for anyone writing a business plan. Mintel reports provide a combination of consumer data and expert analysis. For each report, they typically commission a survey from a sample of 1,350 ROI and 650 NI people. The information gathered from surveys, trade and media sources is presented in a digestible form by an analyst with experience in the area.  
Mintel Reports cover many topics in the areas of Finance, Food & Drink, Leisure, Lifestyles and Retail.
New reports are produced regularly and they reflect the changing tastes of the Irish public. A recent example is, for instance, Healthy Eating – Salt, Sugar, Fat. Market research needs to be up to date and we find Mintel reacts quickly to dynamic situations, the two most recent reports they have produced on Automotive Retail, and the Cheese Industry already contain predications about how Covid 19 will effect customer behaviour in these markets.
Marketline: covers every major market place in the world.

This database provides a vast amount of information. It's one we find especially useful to students seeking to do PESTLE (Political, Economic, Social, Technological, Legal and Environmental) analysis of a particular country and for business people interested in overseas markets. In Marketline there is access to company, industry, financial, city and country business data, case studies, data and statistics for every major marketplace in the world.
Euromonitor: covers a number of countries around the world.

Euromonitor's Passport Service provides detailed data and analysis on industries and consumer reviews and trends across a number of countries around the world. It provides access to thousands of country and market research reports, company profiles and breaking news. Its forecasts are there to help develop business opportunities.
How to access this service. Email your enquiry to [email protected] and a librarian will search the relevant databases and let you know what the process yields. You will be asked to read and accept the terms and conditions (by email) relating to relevant database information. After you have emailed your acceptance a copy of the relevant information will then be emailed to you.
Who can access this service? This service is available to members of Dublin City Libraries. If you are not a member you can join online. The service is also available to members of the public referred by our Work Matters library partners.
We would also like to encourage you to look at the other useful business resources available, and on BorrowBox, all accessible with your library card. Submitted by Sandra in the Business Library.