Published on 14th February 2012
It's Valentines Day and I'm reading Everything I know about Love I learned from Romance Novels by Sarah Wendell of Smart Bitches Trashy Books (an actual excellent blog I'd recommend to anyone interested in the genre, the D and F reviews are howlingly funny).  Her other book Beyond Heaving Bosoms is also in the libraries.  They don't take themselves seriously, but they do take the topic of romance seriously, particularly when it comes to Genre Snobbery.
Romance is often the bottom of the pile when it comes to respect, dismissed as women's and often trivialised I sometimes almost feel like apologising when I admit to reading Mills & Boons and people sometimes ask me if I read "real" books.  For me Mills and Boons are often great fun, good reads and often a palette refresher. Yes the outcome is known, but that could be argued of a lot of genre books, at the end of a murder mystery you expect to resolve the murder, spy novels expect to save the world, it's the journey that matters, the way in which the characters resolve their relationship that matters with a romance.  Most fiction involve a romance of some sort in the story, it's the believability that counts.  How does James Bond manage to have so many women fall into his arms?
Some relationships and the speed that people fall in love is frankly unbelievable but the romance novels that stand out in my mind are the ones that leave me hoping that the characters continue to have a good life afterwards.  It must be said that there are many books that others have loved that I have hated and vice versa, in this as in all fiction, each to their own.
Some of my favourites (that we have in stock) include, in no particular order: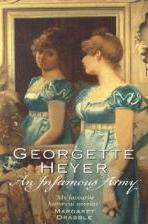 Georgette Heyer's Infamous Army no list really couldn't include Georgette Heyer, this one has a much-lauded and apparently quite accurate account of the Battle of Waterloo!
Kay Hooper's Sleeping with Fear an amnesia plot with occult and paranormal thriller elements.
Jane Austen's Pride and Prejudice I've read this one a few times and it never fails to warm me.
Sherrilyn Kenyon's Dance with the Devil - the writing isn't stellar but the stories pull me in and keep me reading
Nora Roberts - Blood Brothers - somewhat paranormal, I found it entertaining.
Jennifer Crusie - Faking it - probably the most romance of the list, I loved it.
Any romantic fiction suggestions?