Science Fiction Movies Aplenty!
Published on 2nd January 2014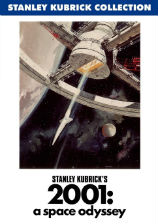 Stanley Kubrick's 1968 landmark film '2001: A Space Odyssey' is just one of the many classic science fiction films available from Dublin City Public Libraries. We also have the 1970s big-budget science fiction films filled with special effects like 'Star Wars' and 'Close Encounters of the Third Kind', and other blockbuster hits of subsequent decades including 'E.T.' and 'Avatar'.
Others SF movies available include:-
Back to the future, Parts 1,2,3
Blade Runner
The Day after tomorrow
District 9
Enemy Mine
Hackers
I, Robot
Inception
Independence Day
Invasion of the Body Snatchers


Jurassic park
Marvel Avengers assemble
Serenity
Star trek trilogy
Terminator 2 - Judgment day
Terminator 3 - Rise of the machines
The Day the Earth Stood Still
View a selection of science fiction movies in our catalogue and available to borrow.