Published on 5th July 2017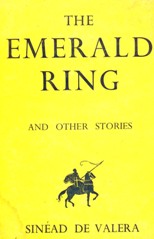 Jane Flanagan was from Munster Street in Phibsborough. Born in 1878, she remembered as a young girl following the cortege of Charles Stewart Parnell to Glasnevin. Flanagan's family had moved to Phibsborough from Balbriggan when her father Laurence, a carpenter, had worked on the refurbishment of St. Peter's Church. While she was working as teacher at St. Francis Xavier's school near Dorset Street during 1899 Jane joined the Gaelic League. Thereafter she used the first name 'Sinead.'
The Emerald Ring by Sinead de Valera.
Flanagan joined Inghínidhe na hÉireann, one of the first nationalist women's organizations. She also acted in Irish language plays and taught the language to beginners, among them Seán T. O'Kelly, Ernest Blythe and Eamon de Valera. She met de Valera in 1909 and they spent that summer at an Irish college in Co. Mayo. They married in January 1910. By 1916 they had three children and were living in Morehampton Road.
" src="/sites/all/modules/contrib/wysiwyg/plugins/break/images/spacer.gif" title="<--break-->">
Sinead was pregnant when de Valera took over command of the 3rd Battalion area on Easter Sunday. She then moved back to her family home in Phibsborough, where she gave birth to a son, Ruaidhrí in November 1916 while her husband was in prison. It was an extremely tough period for her. Her sister Mary died of cancer in June 1916 and her mother Margaret became seriously ill and died in January 1917. Her father was also in bad health. Sinead's daughter Mairin de Valera recalled how her mother 'had no income, and she had to leave our home and return to live with her parents, brother and sisters … my grandparents were very old and both were semi-invalids. My eldest aunt was living with them and was suffering from a very painful form of cancer…. my mother had to undertake all the work of nursing her, as well as the housework, cooking and care of the babies…my elder aunt died in August 1916, by brother Ruairi was born in November that year and my grandmother died in January 1917.'
When Eamon de Valera was released from prison in June that year he moved to Sinead's home for a period, during which he became a national figure. Sinead however, despite her own role in her husband's political development, remained very much in the background looking after their seven children during de Valera's long periods of absence over the next six years.
About
This article is one in a series created by Dr Brian Hanley, Historian-in-Residence at Dublin City Library & Archive

 @DubHistorians