Snowflake: One Dublin One Book choice for 2024
Published on 13th November 2023
Dublin City Council is delighted to announce that Snowflake by Louise Nealon is the One Dublin One Book choice for 2024.
One Dublin One Book aims to encourage everyone in Dublin to read a designated book connected with the capital city during the month of April every year. This annual project is a Dublin City Council initiative, led by Dublin City Libraries and Dublin UNESCO City of Literature, which encourages reading for pleasure.
Announcing the choice, Dublin City Librarian, Mairead Owens, said: "A debut novel, Snowflake from Louise Nealon is a tender story of a college student from the country adjusting to her new life in Dublin. Raw, yet affirming, this book will appeal to all readers as it explores life's milestones, family, mental health and how we ultimately connect with others while facing big challenges. I am excited about reaching new audiences with this book and generating discussion among readers in the city and beyond next April."
 
The book's author Louise Nealon is excited about the One Dublin One Book programme, remarking:
"I am delighted that Snowflake has been chosen as next year's One Dublin One Book. I could never have imagined, upon entering Dublin as a lost culchie, that my confrontation with the place would fuel the world of a novel. Dublin has a habit of showing people who they are. In the early stages of writing Snowflake, the characters stayed within the confines of their rural village. It was only when I sent them to Dublin that they began to reveal themselves to me. It is an honour to unleash this story into the imagination of a city that helped to bring it to life."
Details of the One Dublin One Book programme will be announced in early 2024.
The One Dublin One Book initiative is also funded by The Department of Tourism, Culture, Arts, Gaeltacht, Sports and Media.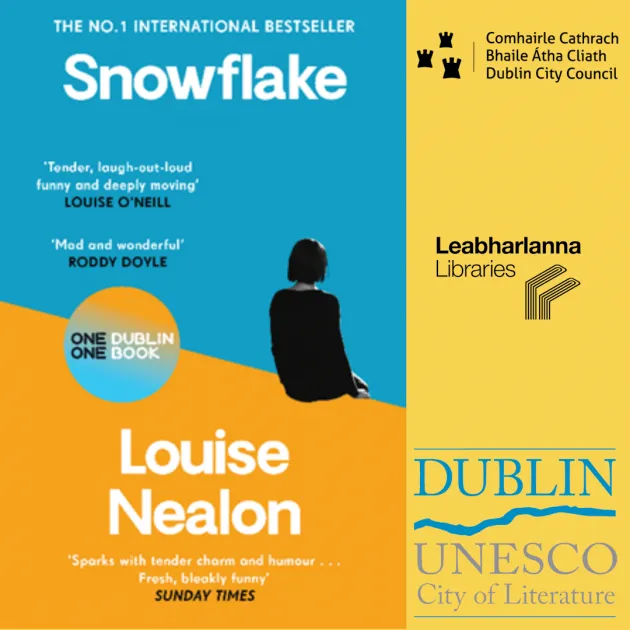 The Book
Eighteen-year-old Debbie White lives on a dairy farm with her mother, Maeve, and her uncle, Billy. Billy sleeps out in a caravan in the garden with a bottle of whiskey and the stars overhead for company. Maeve spends her days recording her dreams which she believes to be prophecies.  
This world is Debbie's normal, but she is about to step into life as a student at Trinity College Dublin. As she navigates between sophisticated new friends and the family bubble, things begin to unravel. Maeve's eccentricity tilts into something darker, while Billy's drinking gets worse. Debbie struggles to cope with the weirdest, most difficult parts of herself, her family and her small life. But the fierce love of the White family is never in doubt, and Debbie discovers that even the oddest of families are places of safety.
A startling, honest, laugh and cry novel about growing up and leaving home, only to find that you've taken it with you, Snowflake is a novel for a generation, and for everyone who's taken those first, terrifying steps towards adulthood.
Winner of Newcomer of the Year at the An Post Irish Book Awards 2021.
The Author 
Louise Nealon is a writer from County Kildare. She has a degree in English literature from Trinity College Dublin and a Master's degree in Creative Writing from Queen's University Belfast. In 2017, she won the Cork International Short Story Competition. Her debut novel, Snowflake was released in May 2021, and won Newcomer of the Year at the An Post Book Awards. Snowflake has been translated into several languages including German, Polish, Russian, Spanish, Italian, Croatian, Slovakian and Chinese. Her short story 'What Feminism Is,' is currently being adapted into a short film by Pure Divilment Pictures. Louise is currently working on her second novel.
The Publisher
Snowflake is published by Manilla Press, an imprint of Bonnier Books UK.