Spring into Storytime with Clarence's Big Secret
Published on 7th April 2020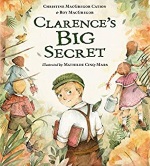 For this Spring into Storytime session we have chosen Clarence's Big Secret written by Roy MacGregor and Christine MacGregor Cation and illustrated by Mathilde Cinq-Mars. As a young boy, Clarence didn't go to school. Instead, he took over working in the farm after his father had an accident. He never learned to read until he was 100 years old. This book tells Clarence's amazing true story. Celebrate Spring into Storytime with Dublin City Libraries.
In April, we are choosing one story per day from the collection for you to enjoy. To find the story just log into Tumble Book Library and search for the title Clarence's Big Secret.  This book is suitable for ages 4-7.
About TumbleBook
Check out details of TumbleBook Library and how to acces it on our website. Tumble Book Library is a curated database of over 1100 children's e-books, and includes their unique animated, talking picture books, read-along chapter books, national geographic videos, non-fiction books, playlists, as well as books in Spanish and French.
It's full of great stories to listen to with videos showing all of the wonderful illustrations. You can even follow the text as the story is being read to you.
To learn more about how to use Tumblebooks please check out our how to video.