Summer reading: book recommendations
Published on 13th May 2020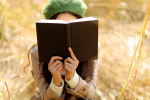 Book recommendations from Eimear from the relief staff panel, one historical true crime and a mix of fiction genres. With the brighter days and good weather making an appearance these book ideas might take your mind off things for a short time and give you a much needed break. Fiction writing can teach us a lot about society and humanity. Reading fiction contributes to a person's moral psychological development and their ability to have empathy or understanding. It enhances out ability to connect with each other. It makes us a little bit more aware and informed.
Tell Me Everything 
If you 're looking for a compulsive page-turner full of psychological suspense, why not check out this impressive debut by Cambria Brockman? New to Hawthorne College, Malin quickly finds her feet amongst a tight-knit circle of friends. There is Gemma, the artsy but insecure theatre major; John, the handsome and wealthy New Englander; John's cousin Max, the shy, quiet pre-med student; Khaled, the group jester and prince from Abu Dhabi; and of course Ruby, a beautiful art history student. However, Malin has a troubled past, one that she's good at hiding. She has developed a knack for projecting a carefree appearance, but behind the scenes she's calculating, cunning and has mastered the art of detecting the vulnerabilities and weaknesses of others. Fast-forward to Senior Day, just before graduation, Malin's secrets and those of her friends are revealed. As Malin races to preserve her perfectly cultivated image, her missteps set in motion a chain of events that end in a murder. Whilst fragile relationships hang in the balance and close alliances shift, Malin tests the limits of what she is capable and how far she will go, to stop the truth from coming out. Tell Me Everything is a dark and twisty tale, the perfect thriller for summer!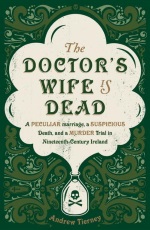 The Doctor's Wife is Dead.
Nenagh, Co.Tipperary. 1849. Ellen Langley, the wife of prosperous local doctor and surgeon Charles Langley, has just died after a short illness. Ellen had been sick for a number of years with consumption, but in the days before her death, her physical condition deteriorated rapidly. Several doctors attended Ellen in her final days and noted her symptoms. It appeared as though Ellen had died of English Cholera.  At least, this was the conclusion of the five doctors who carried out the post-mortem. But in a remarkable turn of events, the coroner's jury refused to accept the verdict. The circumstances surrounding Ellen's death raised questions. Why had Charles Langley written a letter requesting an inquest into his wife's death whilst she was still alive? Why was she buried in a pauper's coffin? Why wasn't the jury allowed to interview Mrs. Langley's servants? Why was Charles Langley adamant that one witness in particular,shouldn't be called to give evidence? Dr. Langley's contempt for his wife was widely known and it isn't long before new evidence surfaces and Charles Langley finds himself on trial for his wife's murder. Following every twist and turn in the case, The Doctor's Wife Is Dead tells the story of an abusive marriage, the double standards in Victorian Law, and the brave efforts of ordinary people to hold the person responsible to account.  I really enjoyed this account of a nineteenth century true crime. It was very well researched and it gives the reader an honest account of Victorian life in Ireland. I couldn't put it down!
The Man Who Didn't Call by Rosie Walsh.
When Sarah and Eddie meet, sparks fly. It seems that Sarah has finally met Mr. Right. After spending seven blissful days together, Eddie departs for a pre-booked holiday to sunny Spain. Sarah has no doubt in her mind that Eddie will call, but he doesn't. Sarah's friends try to persuade her to forget him, but Sarah is certain that something has happened and that there has to be reason for his silence. There has to be! What if the reason for Eddie's silence is a secret, the one thing you two didn't share with each other?
The Women of Primrose Square.
This is another great read from popular Irish writer Claudia Carroll. Frank Woods at number 79 Primrose Square is about to turn fifty. Naturally, he wants to celebrate and so he tries to organise a party to mark the occasion. The problem is no one wants to go. Not even his wife and children, who all have other plans! Frank arrives home on his birthday, to find that his family have thrown him a surprise party. Standing in the doorway is Francesca, not Frank. As Francesca transitions, her relationship with her family becomes difficult and she decides to rent a room from her cantankerous neighbor, Violet Hardcastle. There, she makes friends with Emily Dunne, who has just gotten out of rehab and is desperate to make amends. Gossip quickly spreads through Primrose Square and it's not long before relationships are tested. One thing is for sure, nothing in Primrose Square will ever be the same again.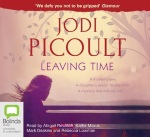 Leaving Time.
Jodi Picoult is a prolific and popular writer, and this title is one of my favourites. Jenna Metcalf's mother Alice went missing in the wake of an accident when Jenna was just three years old. It's been more than a decade since her disappearance and Jenna refuses to believe that her mother would have abandoned her. Undeterred, Jenna frequently searches the Internet for clues into her mother's whereabouts. Determined to find her mother, Jenna enlists the help of discredited psychic Serenity Jones and Virgil Stanhope, the detective who originally investigated Alice's case. As the truth unfolds, Jenna's memories start to fit with the events described in her mother's journal, and the trio realise that when you ask difficult questions, you often get difficult answers. Leaving Time is a bittersweet tale of love, loss and the refusal to give up.
Access eBooks/eAudiobooks on your phone, tablet or reader. Once you have installed the app, search for Dublin in the 'Library' field provided and then sign in using your library membership card number and PIN.
Members of other library authorities will need to access BorrowBox using a different link.