Published on 7th July 2020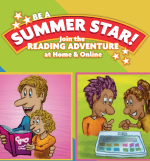 Wondering what to do on a rainy day?  Then have a go at our Summer Stars quiz. This competition is for ages 6 – 12.  The closing date is August 31st.  A draw will be made from all the correct entries to win a prize. Email your completed entry form to [email protected]  If it's easier, you can email us your answers but please include the details required at the end of the quiz. 
To find the answers, log into TumbleBook Library, one of our free eResources, and search for the book mentioned in the question.
Q.1  On Page 1 of 'A Frog in My Throat', written by Frieda Wishinsky and illustrated by Louise-Andrée Laliberté, what was the name of the movie that Kate wanted to see?
Q.2  In 'The Man Who Loved Libraries' written by Andrew Larsen and illustrated by Katty Maurey, what is the name of the bridge that is pictured on the last page?
Q.3  In 'Dalen and Gole: Scandal in Port Angus', written and illustrated by Mike Deas, what animals on Earth were being taken to the planet Budap? 
Q.4  In 'Do Frogs Drink Hot Chocolate?' by Etta Kaner, how do honeybees raise the air temperature in the hive? 
Q.5  In the first line of Chapter One of 'Ben the Inventor' by Robin Stevenson, what was right in front of Ben's house?
Q.6  In 'Our Seasons' by Grace Lin and Ranida McKneally, go to the first page and you will read "When the Earth is cold we long for the _________".  What is the missing word?
Q.7  In 'Fuzzy Baseball, Vol. 1: Fuzzies!' by John Steven Gurney, what colour baseball caps do The Fernwood Valley Fuzzies wear?
Q.8  In 'The Day-Glo Brothers" written by Chris Barton, what were the first names of the two brothers?
Q.9  On the first page of 'Any Pet Will Do' written by Nancy Shouse, what was Jeremy's awful discovery?
Q.10  "I have round suction cups at the ends of my fingers and toes to help me climb".  This is written about what animal at the end of the book 'Animals in Camouflage', written by Phyllis Limbacher Tildes?
Required details if you want to email without the form:
Name  ________________________________________
Library card number _____________________________
Age _____________________
Email / phone number _____________________________________________
Name of local library ______________________________________________