Published on 3rd May 2011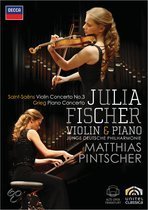 A DVD, Julia Fischer Violin & Piano, available to borrow at the Music Library, features Julia Fischer, playing solo on piano and violin in the same concert. The concert was recorded at Frankfurt, 1st January 2008.
Julia Fischer says she knew from an early age that she wanted to be a musician. She took up the violin because, when she was a child she always had to wait until her mother and her brother (who is four years older than her) had finished practising on the family's only piano. From the age of four she received piano lessons from her mother and applied herself at the Piano with nearly the same intensity she brought to playing the violin.
Finally, at the 2008 New Year's Concert in Frankfurt's Alte Oper, with the Junge Deutsche Philharmonie under Matthias Pintscher, the internationally celebrated violinist fulfilled one of her fondest wishes, playing not only the Violin Concerto No 3 in B minor by Camille Saint-Saens, but also, Edvard Grieg's famous A minor Piano Concerto with equal acclaim.  It is a rare experience for an artist to play two concertos on different instruments.
You can contact staff in the Music Library, via telephone (01) 8734333, email [email protected] or in person. The Music Library is located in the Central Library, Ilac Centre, Henry Street, Dublin 1.