THINK! Book display at Rathmines for the month of November
Published on 1st November 2017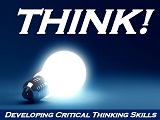 In an online world that is connected 24/7 we have never had access to so much information; so much so that people sometimes feel overwhelmed. We are constantly subjected to conflicting messages from pundits, advertisers, politicians and talking heads and many ideas in public and political discourse are greatly contested, such as global warming or the safety of vaccines. Additionally, much public debate has arisen concerning the veracity of many information sources often accompanied by claims of 'fake news'.
For the month of November Rathmines library will be hosting a book display featuring many titles on the topic of critical thinking which will aid readers in discerning just how reliable many of the claims with which we are constantly bombarded really are.
So if you would like to pick up new techniques to cut through the polemic and cunningly crafted narratives why not nip in and peruse our selection of materials to help you THINK! Can't get into Rathmines, no problem just reserve any of these reads from our catalogue and pick them up at your local library.