Published on 22nd June 2017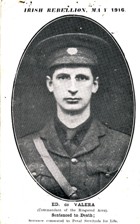 Eamon de Valera was one of the republican prisoners who arrived back in Dublin to a tumultuous welcome on 21 June 1917. Already popularly known as one of the most senior veterans of the Rising, he became a nationwide personality when elected as MP for East Clare on 10 July 1917. At this point de Valera was living in Phibsborough, at the family home of his wife Sinead.
Image: "Irish Rebellion, May 1916. Ed. de Valera (Commandant of the Ringsend Area) Sentenced to Death; sentence commuted to Penal Servitude for life." (see larger version)
Very soon Dublin Castle was anxious to detain him. Eamon Broy was a detective with 'G' Division, but had been undergoing a conversion to republican politics. He recalled how on 14  August, 1917, 'a warrant arrived the Detective Office, 1 Great Brunswick St … Detective Sergeant Fagan and I were the only officers present … we were ordered to arrest de Valera, who was stated to be residing at 34, Munster St., Phibsborough. We were told not to enquire for him at that house, for fear he might happen to be absent and our calling there might put him on his guard.' Broy spent the journey to Phibsborough 'trying to think of some means of warning de Valera of the intended arrest.' He remembered that 'an Irish Volunteer named Peadar Healy who participated in the 1916 Rising lived at 86, Phibsborough Road, but all I could do was to note where No. 86 was situated in case I might find myself alone for a couple of minutes in order to go there and warn Healy.' Instead Broy waited until the detective accompanying him went to Mountjoy police station. He then sprinted down to No. 86 and while 'Peadar Healy was absent from his house … his brother was in. I told him who and what I was, and that de Valera was about to be arrested. I asked him to warn de Valera in case the latter wished to evade arrest. I sprinted back and, on turning in to the North Circular Road, met Detective Sergeant Revell, who was stationed in the "political" office in the Castle and lived in the Phibsborough area.' Broy feared that Revell, known for his loyalist politics, would question him about what he was doing but luckily he accepted his explanation. Meanwhile Broy noted that soon 'de Valera could not be observed anywhere by the detectives, who remarked that it was strange that he could be seen every day before the warrant was issued.' By the winter de Valera was an even more prominent figure, president of the newly republican Sinn Féin party and of the reorganized Irish Volunteers. Broy, meanwhile was continuing his work as a detective while looking for ways to aid the republican movement.
About
This article is one in a series created by Dr Brian Hanley, Historian-in-Residence at Dublin City Library & Archive

 @DubHistorians