Tips for making the most of your read alouds
Published on 21st August 2020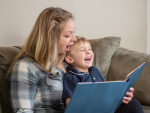 Reading aloud to your child is one of the most powerful ways to boost your child's vocabulary and set them up for reading success. Play around with these tips and see which ones work for you and your family. You may find that your kids love silly character voices but lose interest when you ask too many questions about the book. This is just fine!  Use the tips that work for you, and come back to the others later. Enjoy your read aloud time with your little ones.
Look for Rhyme and Repetition
Be on the lookout for books with rhyme and repetition. The rhyming is a valuable skill, and along with repetition, it creates a rhythm that makes listening to these books soothing and enthralling for kids. Think Dr. Seuss!
Ham it Up
If you feel comfortable using character voices when you are reading, do it! And if it feels awkward, jump in and do it anyway. Practice is the only way for it to get easier, and your child will appreciate any voice you come up with. Don't feel like you have to give each character their own voice – maybe just use a different voice for the main character, and let it go at that. Reading books with straight-forward plots is a great opportunity to ask sequencing questions about what happened first, next and last. You can also ask concrete literal questions about who, what, and where. If an obvious opportunity arises, start a quick conversation about how something happened in the story, or why a character did something in particular. Picking relatable stories about everyday life with main characters (human or animal) who are your child's age or just a litte bit older will set your child up for success in comprehension right from the beginning.
Rehearse
When you find a book that rhymes or uses a lot of repetition, read it to yourself a few times before you read it aloud to your child. Look for the parts that rhyme, and make sure that they sound natural when you read them aloud. It's best to know when the rhyming bits are coming up, and being ready to emphasize those parts makes a huge positive difference in the quality of your read aloud.
Invite Participation
Once your child has heard the book a few times, pause just before the end of a line to invite your child to say the rhyming word with you. Know when the repetition is coming up, too, and after a couple of times, pause and look expectantly at your child just before you read the section that repeats.
Talk About Photographs and Illustrations
Good books for children have photographs and illustrations that are clear, colorful and engaging. Use these illustrations as an opportunity to talk about new vocabulary – label and explain any items or activities that might be unfamiliar to your child. Doing this regularly sends a message to your child that discussing the pictures in a book is a natural part of reading. It won't be long before your child is asking their own questions about the illustrations, which naturally leads to even more engagement and interaction. It's a simple, powerful way to help your child's vocabulary explode during these preschool years.
Short and Sweet
Keep reading sessions as short as necessary, and if your audience is getting impatient or wiggly, quickly summarize the ending of the book and try again later. Explore our catalogue, reserve a book today, type in "read aloud" in the search bar if you would like more ideas on helping your child discover the joy of reading. Support your local library today.