Published on 25th June 2020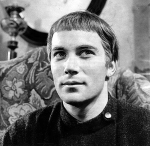 The strength of a biography of the artist lies in the reader's desperate willingness to explore and re-examine the fruits of the artist's labour. On completing William Shatner's autobiography Up Till Now, I studied the author's revolutionary interpretation of Henry V (or Henry Five as the author refers to it); his Maoist deconstruction of the role in Michael Langham's 1953 production led to a reconceptualisation of the art of acting - a counterpoint to Christopher Plummer's more classical interpretation.
To be sure, there are three aspects to this autobiography: firstly, Mr. Shatner has an opinion on everything, his quicksilver mind often leads the reader on an intellectual tangent through a postmodern thicket; secondly, the author is a raconteur of the highest order - his scuttlebug on the film and television industry is only matched by David Niven's The Moon's a Balloon; thirdly, his analysis on his approach and practice of his craft.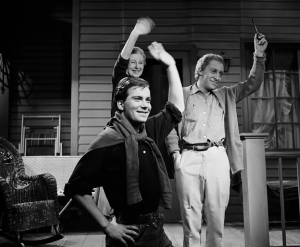 Mr. Shatner's development of 'Shatnerism' - the iconic mellifluous, halting and staccato cadence; his use of the 'loud whisper'; the iconoclastic urgency -  engulfs all the roles he inhabits: observe the sinister Adam Cramer in The Intruder (1962); consider his avant-garde Mark Anthony in Julius Caesar (1955); reflect on his personification of LBJ's 'Great Society' as Captain Kirk in Star Trek (1966-1969). These landmark performances only whetted the appetite of this reader for the work of this acting colossus that I have yet to see. I yearn to see 'Shatnerism' in action in the metaphysical horror written entirely in Esperanto, Incubus; or White Comanche (1968) whither Mr. Shatner plays the dual roles of the peyote addicted twin brothers Johnny Moon and Notah.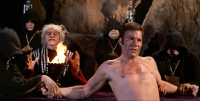 Imagine, if you will, a man, an artist who boldly goes where no other Canadian actor has gone before - narrating an audiobook version of Ulysses: 'Stately. Plump. Buck Mulligan. Came. From the stairhead. Bearing a bowl. Of. Lather. On which. A. Mirror. And a. Razor lay……………...Crossed.' Set phasers to stunning.
Up Till Now by William Shatner is available to download on Borrowbox. Access eBooks/eAudiobooks on your phone, tablet or reader. Once you have installed the app, search for Dublin in the 'Library' field provided and then sign in using your library membership card number and PIN. Watch our how to video on Borrowbox. Members of other library authorities will need to log in using a different link.
Submitted by Tom in Drumcondra Library.