Published on 2nd May 2020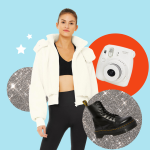 It's almost a cliche at this point to say that teen fiction isn't just for teens anymore. Young adult fiction is a category of fiction written for readers from 12 to 18 years of age. While the genre is targeted to teenagers, approximately half of YA readers are adults. Summer, like youth, is fleeting. But the books we read when we're young can stay with us for a lifetime. Both these titles come highly recommended for our teen readers by our colleague Eimear from the relief staff panel.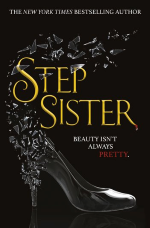 Stepsister by Jennifer Donnelly. It's the moment she's waited for – Isabelle is about to win the handsome prince. There is only one problem, Isabelle isn't the beautiful girl who lost the glass slipper and stole the prince's heart. No, Isabelle's the ugly stepsister, who decided to cut off her toes in order to fit into Cinderella's glass slipper…. which by the way is now filling with blood.
When the Prince discovers the truth, Isabelle is banished, cast out in shame. But after all it's no more that Isabelle deserves: Isabelle's a plain girl in a world that values beauty, a feisty gir, in a kingdom that expects women to be seen but not heard. Isabelle has tried to fit in, to be just like Cinderella, but she's not.
Instead, Isabelle cuts off her toes in order to fit into a world that doesn't accept a girl like her. A world that has made her jealous, empty and mean spirited. The is what she has been told and that is what Isabelle believes, until she gets a chance to change her destiny and prove to the world that it will take much more than heartache to break a girl. Evoking a darker, earlier version of the Cinderella story, bestselling author Jennifer Donnelly brings us a tale of empowerment, that challenges gender roles and reminds us that we all have a say in our destiny.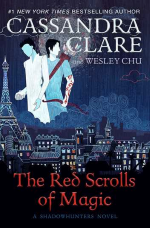 The Red Scrolls of Magic (a Shadowhunter's novel) New York Times bestselling author Cassandra Clare and award-winner Wesley Chu team up to bring you the first installment in this new series. It follows High Warlock Magnus Bane and Alec Lightwood as they tour the world together after the Mortal War.
Magnus Bane wants a holiday — more like a lavish trip around Europe, with his boyfriend Alec Lightwood of course! No sooner have the two settled in Paris when news arrives that a demon-worshipping cult called the Crimson Hand has begun causing chaos all over the world. Now Magnus and Alec must race against time to track down the Crimson hand and its new leader, before it's too late!
Watch our how-to video on Borrowbox.
Access eBooks/eAudiobooks on your phone, tablet or reader. Once you have installed the app, search for Dublin in the 'Library' field provided and then sign in using your library membership card number and PIN.
Members of other library authorities will need to access BorrowBox using a different link.