Published on 2nd December 2021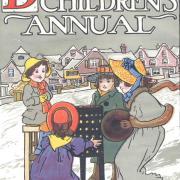 While the Victorians did not invent all the traditions we associate with Christmas, this era is the one when most of them became firmly established. Its iconography is an intrinsic part of the Christmas period, with scenes of Victorian carol-singers and sleigh bells, ruddy-cheeked children and trees bedecked with candles still decorating our Christmas cards. At a deeper level, the Victorian emphasis on the values of family and home remain entrenched in our perception of the festive season.
The pictures in this Gallery are taken from two periodicals held in the Special Collections of Dublin City Libraries.
The Illustrated London News was the world's first illustrated newspaper. Founded by Hector Ingram, it was first published on May 14th, 1842 and covered news from all over the world. The paper became known for the quality of its engravings by artists such as John Gilbert, who was often not present at the events he illustrated but based his drawings on the detailed descriptions given to him by journalists. Some of the most popular pictures were those of Queen Victoria and her court, but The Illustrated London News also published more serious news, covering events such as the Irish Famine. Photography only came into common use in the newspaper after 1890, and up until the First World War engravings were still used to illustrate events. After a number of years of appearing at increasingly infrequent intervals, the paper was finally discontinued in 2003. Each year the paper produced a lavish Christmas edition, often with colour pictures.
The Lady of the House was a popular ladies' periodical, published in Ireland. It was produced between the years 1880 and 1924 when it merged with The Irish Tatler and Sketch. By the turn of the century The Lady of the House was owned by the Findlater's, the company which had been supplying Dublin families with wine and provisions for many years. Documents relating to the Findlaters are held in the Dublin and Irish Collection, Pearse Street, and a book on the history of the family is also available for borrowing from Dublin City Branch libraries. The publisher of The Lady of the House, Henry Crawford Hartnell, was also a well-established historical writer. The standard of its production was high, with fine illustrations and good quality photographs. While much of the content was concentrated on beauty and household matters, including an annual Champion Baby competition, The Lady of the House also published political and social material such as articles on Dublin slums. The numerous advertisements it carried are a useful insight into the society of late 19th and early 20th century Ireland. 
Further Resources
The following online resources can be accessed free of charge at your local library. Ask library staff for information and assistance. View a full list of online resources available with your library card.
For further reading, consult the Library Catalogue.