Visit the library and enjoy the experience
Published on 7th May 2014
Magazines – What are held here?

The Business Information Centre has in excess of 160 magazine titles in print, including some of the newest and most topical editions – fancy browsing through TIME magazine or Business and Finance to find the latest current affair issues or something more local such as tending and nurturing your garden with The Irish Garden.
This collection includes a wide variety of subjects encompassing both business and general reference material. Are you interested in any of these topics?
accountancy, agriculture, arts, banking, building, business, education, employment, EU, finance, franchising, health, law, marketing, management, tourism, and training and gardening, angling, auto and wildlife many many more besides…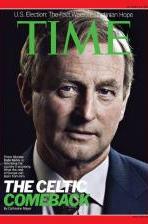 Back issues are also available on request. Certain popular titles are bound at the end of each year and are held in storage.
The current issues are displayed alphabetically and we encourage the use of our indexes to choose appropriate issues. Both subject and titles indexes are available. If help is needed, staff are always to hand. If you require a title which is not on display, we may be able to get it from another library for you or we may have it available electronically. Remember to always ask. 
Visit our library from Monday - Thursday 10am - 8pm, Friday - Saturday 10am - 5pm and enjoy the experience. Beir bua agus bain taitneamh as an cuairt.