Published on 28th August 2012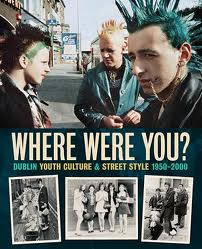 A very important and fascinating book was published this year, "Where Were You? Dublin Youth Culture & Street Style 1950-2000" by Garry O'Neil and Niall McCormack.
The book is a compilation of photographs documenting social and fashion scenes in Dublin. What sets this book apart is that there are no staged fashion shoots or celebrities, just amazing photographs of everyday people wearing what was in style and ordinary people with extraordinary style.
It's a very intimate account of street culture in Dublin. This feeling of intimacy is directly linked to the way in which the material was sourced. Posters were hung up in cafes, bars and shops around the city asking people to send in photos, rather then all the material being collected in newspaper archives.
O'Neil travelled around Dublin meeting people to look through their albums and hear about the scenes that were happening at the time. He also received material from different parts of the globe offered by people who had emigrated. The chapters are organised by decades starting with the 50s and 60s.
Each chapter has a very readable preface setting the scene for that era by mentioning clubs,dances, streets and shops that were frequented by young people. They also include quotes from people who were interviewed, here is a very good one from the 50s and 60s "You dressed like your folks or you look like you were dressed by your folks". The pages of photographs also have ticket stubs from gigs, posters and flyers for clubs and really cute adverts from the time.
It also documents the violence that sometimes surrounded street culture for example the Boot Boys and Skinheads in the seventies. So from suave suits in the sixties to break dancing, skateboarding and raving in the nineties I would highly recommend buying this book. If you've been stuck out in the suburbs for a while borrow or buy this book and you will remember just how colourful Dublin can be.
Another interesting layer to this book is O'Neil's collaborator Niall McCormick who is a great graphic artist based in Dublin. Has designed book covers for O'Brien and Lilliput press. After you have enjoyed "Where Were You?" feast your eyes on Niall's website.