Witchy women on BorrowBox
Published on 4th May 2020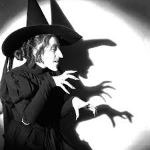 Lately there have been a number of books with witchy themes. Not so much the pointy hat black cat and broom toting middle aged spinster toiling over a cauldron witch. But women who are different, the outsider who does not conform, the outcast who does not comply, and are therefore a danger. Women perceived to be subversive and confrontational just for showing intellect and independence, for having a connect to nature and old traditions.
They deal with tales where there is dissonance between public opinion and personal reality. The books have many other common themes from the rehabilitative nature of female friendship, to the unyielding grip of the past in our present circumstances. The stories variously play women as villain, victim, and heroine, and a combination of all three. But witch? Well you'll have to read the books and decide for yourself.
Burial Rites by Hannah Kent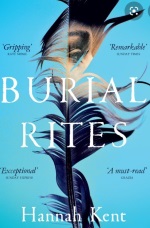 Burial Rites centres around Agnes Magnusdottir a servant of no means from north Iceland condemned to death. She is accused of murder after the bodies of two men known to her, one her master, are found slaughtered and burned. She is confined to an isolated farm through a bleak and claustrophobic Icelandic winter to await execution. Her story is told through her interaction with Toti, an inexperienced local priest who is preparing her to meet her fate. And via her friendship with the compassionate Margaret, wife of District Officer Jonsson and mother to their fearful daughters, on who's farm she stays. Supposedly morally ambiguous: an 'inhumane witch', a calculating 'bloody knowing' villain, murderous Agnes is gradually revealed. Burial Rites is inspired by the true story of the last woman put to death in Iceland in 1829. Hannah Kent's first novel, inspired by a trip to Iceland as a teenager, it was much lauded for evoking a sense of place – cold unforgiving - that reflects in the attitudes of its inhabitants. Her writing style successfully and at times poetically conveys the time and mores it is set in without becoming burdened by historic detail. And goes some way to right the unjust treatment Kent felt Agnes received when originally researching the case for a PhD.  But did Agnes do it?
The Mercies by Kiran Millwood Hargrave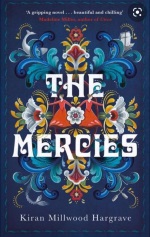 In a storm off the coast of Norway in 1617 the island men of Vardo perish whilst setting off for fishing grounds. They leave behind a remote island populated almost entirely by their widows and children. The women divided turn either to God or the old Sami religion. Some wait on the structured governance and charity of the region, whilst others take matters into their own hands and begin boat fishing and herding themselves.  Maren is resourceful and headstrong enough to try more independent means to survive. Soon she befriends and acts originally as handmaid and tutor, and then as more to Ursa the newly arrived Commissioner's wife. But Absolom  is vainglorious in his ambitious pursuit of authority on the island. He fixates on the tendency in some islanders towards the old religion, and on survival pursuits he sees as manly in the women. As paranoia and suspicion take hold he readies himself for an assault on all that is ungodly. Millwood Hargrave's usually writes for young adults and this is an initial venture into adult fiction. The strong characterisation and narrative required to pass muster with younger readers is evident in this book, as is her skill as playwright and poet. She builds tension to a fateful climax - but will Absolom bring King Christian's laws on witchcraft to bear on his wayward flock?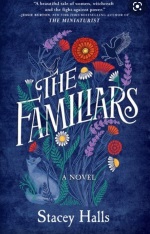 Stacey Halls' background as an article writer and editor for magazines undoubtedly helped her excel at suspenseful storytelling and writing in a clear uncluttered way. Another debut novel, The Familiars is set in 1612 at the time of the Pendle witch trials. A pregnant 17 year old Fleetwood Shuttleworth finds a letter not intended for her to read. Having suffered a number of miscarriages, it is written that she will not survive the pregnancy. But as mistress of Gawthorpe Hall she must fulfil her husband Richard's right for an heir, her existence depends on it. By chance she meets Alice Gray a young local girl and midwife who promises to help her. But Alice's medicine draws from the old ways and its practice throws Alice into suspicion.  Will the women and their friendship survive a Lancashire where men's wont is to destroy anything which is deemed contrary?
Watch our how-to video on Borrowbox.
Access eBooks/eAudiobooks on your phone, tablet or reader. Once you have installed the app, search for Dublin in the 'Library' field provided and then sign in using your library membership card number and PIN.
Members of other library authorities will need to access BorrowBox using a different link.
Submitted by Drumcondra Library