Wondering what to read next?
Published on 22nd January 2018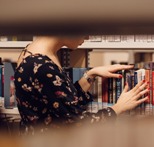 "I've read everything written by my favourite authors, what shall I read next?"  Sound familiar? Well this online resource, now available with your library membership, will help answer that dilemma.
Get book recommendations anywhere, anytime with Who Else Writes Like...?
Who Else Writes Like...? is an established reference resource and reading promotion tool. It is designed to help anyone who enjoys reading fiction to expand the number of writers they read.
You can browse by genre or go straight to an author of interest, check up on characters and series or the latest prize-winning writers, and follow the links to authors' websites for additional information.
So click on 'Browse authors' to get started and discover a whole new world of fiction writers based on your favourite authors.

How to access
Select Log in with your library card number, then select 'Dublin City Public Libraries'. In branch libraries no login required.