Writer in Residence Position Available!
Published on 6th September 2017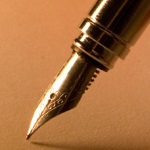 Dublin City Council invites applications for a Writer in Residence, as part of its Culture and Creativity Plan under the Creative Ireland programme.  The residency runs for the period October 2017 to September 2018 and will be managed by the City's Library Service through the Director of Dublin UNESCO City of Literature, and will be supported in kind by Irish Writers Centre.
The residency is open to published writers working in any genre of fiction for adults and attracts a fee of €10,000 per annum.
The residency is envisaged as part-time, which will allow time for the writer's own work, in addition to engagement and interaction with both the general public and, more specifically, with groups attached to Dublin City branch libraries across the city.
Closing date for receipt of applications is September 22nd at 5:00pm. For more information and how to apply, please visit the Dublin UNESCO City of Literature website.