Yasmeen Ismail makes Little Rebels Children's Book Award Shortlist
Published on 15th April 2016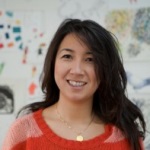 To have one is nice, to have two might be seen as just plain greedy, but we make no apologies for highlighting yet more success for Irish authors. Having just posted about John Boyne being shortlisted for the 2016 Little Rebels Children's Book Award, with great delight we want to highlight the shortlisting also of Yasmeen Ismail for the very same award! Yasmeen is nominated for her picture book 'I'm a Girl!', which coincidentally was also shortlisted for the 2015 Bord Gáis Energy Irish Book Awards (category 'Specsavers Children's Book of the Year – Junior').
'Im a Girl!' is "an energetic picture book which takes on gender stereotypes and smashes them to smithereens. Meet a girl who is competitive, noisy, brainy, speedy, messy and, who is consequently… repeatedly mistaken for a boy. Puts paid to all of those tiresome 'boys are…' 'girls are…' opening lines." (extract, award site)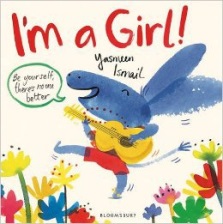 "The girl in this book likes to win, she likes to be spontaneous, fast and strong, and because she also likes to dress in t-shirt and shorts, she is forever getting mistaken for a boy. I'm a Girl! is a wonderful celebration of being who we are and not being pigeon-holed or restricted by gender stereotypes." (Irish Book Awards website)
This picture book is for those aged 4-7 years.
Dublin-born Yasmeen's beautifully illustrated book 'Specs for Rex' was longlisted for the 2015 CILIP Kate Greenaway Medal, while 'Time for Bed, Fred!' was longlisted for the 2014 CILIP Kate Greenaway Medal. 'Time for Bed, Fred!' was also a winner of The New York Times' Best Illustrated Book Award 2014. Another of her picture books in our catalogue is 'Christmas for Greta and Gracie' (2015).
Yasmeen currently lives in the UK. Well worth having a look too at How to be a girl by Yasmeen Ismail – in pictures (Guardian UK).