Lord Mayor celebrates one year of traffic-free Capel Street
Published on 22nd May 2023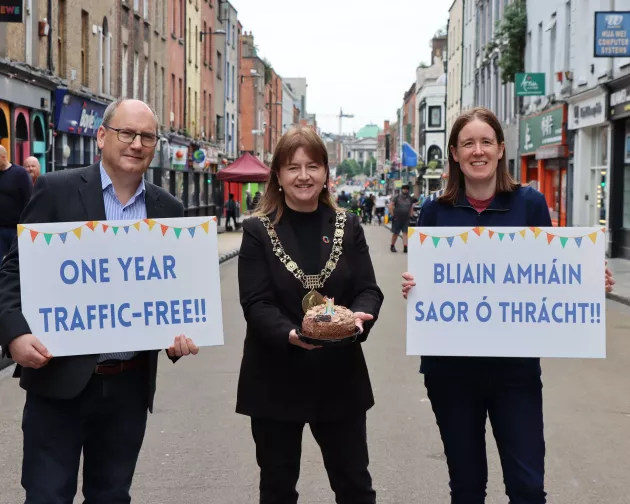 The Lord Mayor of Dublin Caroline Conroy today marked the one year anniversary of Capel Street being made traffic-free, by taking part in a community cycle from Capel Street to Ringsend Park. 
Capel Street was made traffic-free this weekend last year and is the longest traffic-free street in the city. 
Dublin City Council traffic counts show a huge increase in pedestrians and cyclists using the street since it became traffic-free, with a significant decrease in the amount of vehicles in the local area. Over the last year, 6 million pedestrians and almost 1 million cyclists have enjoyed the traffic-free Capel Street, thanks to the removal of over 2 million vehicles from the street. The impact of the car reduction extends further than Capel Street, with almost a 1 million fewer vehicles now using the north inner city area per year.  
"I am delighted to mark today's one year anniversary," said the Lord Mayor. "I think we can all agree that the decision to make Capel Street traffic-free was a positive one that has worked out really well. If you walk, or cycle, down the street you can see the benefits for yourself. What was once a hectic, heavily trafficked street is now a much more relaxed space where people are more inclined to linger, to socialise, and to chat with each other."
"We're thrilled that traffic-free Capel Street has been such a success. We had great support from local councillors, residents and businesses in moving this project forward and it's really positive to see the impact that it's had in increasing walking and cycling in the area. We are now moving to the next stage to improve the street and provide greening and seating. This transformation will be starting later this summer", said Claire French, Senior Executive Engineer with Dublin City Council.
Celebrating the traffic-free space along with Bike Week, the Pedalpalooza cycle parade set off from Capel Street this morning on a community cycle, led by Lord Mayor of Dublin Caroline Conroy to join the Pedalpalooza family-friendly event in Ringsend Park. 
'Pedalpalooza' is a free family-friendly event that aims to celebrate and promote the benefits of cycling.
Bike Week 2023, the annual national week of celebrating cycling, takes place from 13th – 21st May.
***Photographs will be issued to picture desks by Cornflower Photography***
ENDS