Lord Mayor plants first ever Vegetable Garden at the Mansion House
Published on 8th February 2023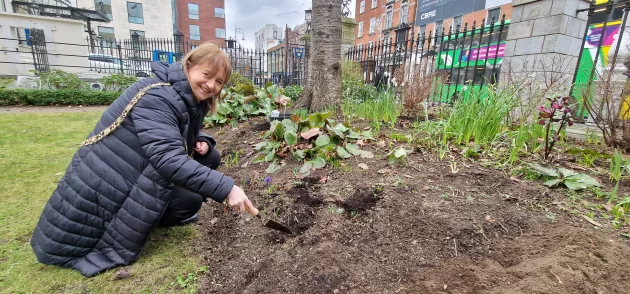 Caroline Conroy has become the first ever Lord Mayor of Dublin to plant a vegetable garden in the grounds of the Mansion House.
The Lord Mayor put the finishing touches to the garden with the help of Dublin City Council's Parks Department.
There are shallots, onions, garlic, fennel, artichokes, blackcurrant, raspberries and blueberries.
Potatoes, tomatoes and cabbage will also be planted.
They will all be ready for harvest by this Summer.
"The enhancement of biodiversity in the City has been one of my key objectives," said the Lord Mayor. "Planting fruit and vegetables in the Lord Mayor's garden is a great opportunity to promote biodiversity and 'grow your own', which are small steps in supporting Climate action."
The Lord Mayor has also planted a tree in the garden of the Mansion House dedicated to the staff of Dublin City Council's Parks Department.
It is to thank them for their service during the Covid-19 pandemic.
The tree is a Crataegus Monogyna 'Paul Scarlet', an excellent pollinator, which is a feature requested by the Lord Mayor.
"It is very heartening for the staff that their efforts to keep parks open, maintained and cleaned during the pandemic have been recognised by the Lord Mayor," said Les Moore Head of Parks, Biodiversity and Landscape Services. "During her period in office, the Lord Mayor has promoted nature in the City, the value and importance of which whether you are living, working or visiting the City is now widely recognised."
ENDS