Pedalpalooza is back, and better than ever!
Published on 17th May 2023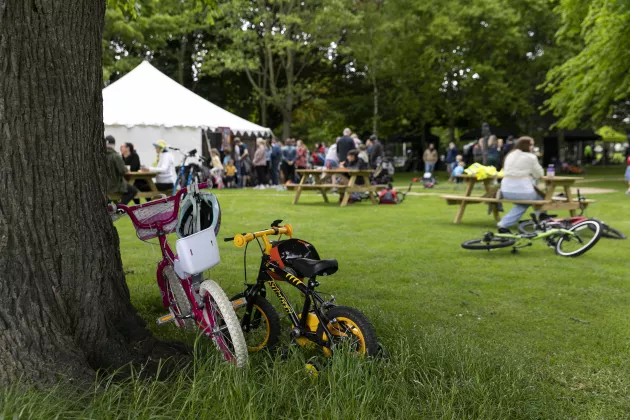 Dublin City Council is delighted to announce the return of Pedalpalooza for 2023, this year to Dublin's Ringsend Park on Sunday May 21st from 11am to 4pm as the flagship event for Bike Week 2023. Following on from a hugely successful 2022 event, the FREE multi-activity celebration of all aspects of cycling will be bigger than ever!
This year, the inaugural Pedalpalooza Cycle Parade has been added to the line-up. Cyclists of all ages and abilities on bikes of all types are invited to join Lord Mayor of Dublin Caroline Conroy for a leisurely 5km cycle through the city centre. The cycle starts from Capel Street at 11.30am and finishes in Ringsend Park, where participants can enjoy the festivities throughout the day. 
Pedalpalooza aims to celebrate and promote the benefits of cycling by hosting a range of fun activities and a free family friendly cycling event for all. On the day, there will be a range of cycling themed activities from a bike decoration station with bike tattoos to tunes and dancing with the Bike DJ. Or perhaps you'd rather try out an e-bike or cargo bike or take a ride on a trishaw or tandem bike, at one of the many bike demos? There will be plenty to see and do for the whole family with kids' fitness sessions hosted by the amazing Marcin's Monkeys and cycling themed tales a plenty during the storytelling sets. Children and adults alike can learn some cycling specific stretches at the yoga sessions or test yourself on the pedal powered challenge at the Pedal Bike Station. If your own bike is in need of a bit of a tune up, make sure to avail of the FREE bike service on offer by the Bike Hub. There will also be delicious food and drink available to purchase and enjoy throughout the day plus much, much more! 
Pedalpalooza, organised by Dublin City Council and funded by the Department of Transport, seeks to demonstrate the various ways cycling can be integrated into everyday life and to promote a more sustainable urban mobility culture. Participants will learn about the benefits of cycling and how sustainable modes of transport can have a positive impact on our health, our bank balance and our environment. In keeping with this theme, Dublin City Council is encouraging all Pedalpalooza attendees to walk or cycle to the event where possible with free bike parking available at the park. 
Lord Mayor of Dublin Caroline Conroy said, "I'm delighted to take part in the Pedalpalooza Cycle Parade. It's a great opportunity for people to have a fun, positive experience of cycling on our city centre streets. I encourage Dubliners of all ages and abilities to come along and take part on the day."
Deirdre Kelly, Walking & Cycling Officer of Dublin City Council, said "We're really looking forward to Pedalpalooza and to celebrating cycling and all its benefits. The cycle parade is an opportunity to experience the city in a new way and we're excited to share this with participants on the day." 
Carmel O' Callaghan Active Cities Officer for Dublin City said, "We are delighted to be involved with the Pedalpalooza event. The aim of the Active Cities initiative is to encourage all Dubliners to become more active irrespective of age or ability. We hope the Pedalpalooza cycle parade will encourage everyone to enjoy cycling through the city."
Gareth Herbert, Sports Officer with Dublin City Sport and Wellbeing Partnership said, "We are delighted to be supporting Pedalpalooza and the Cycle Parade. The parade is a wonderful opportunity to experience cycling through the city in a safe and fun manner, along with celebrating Bike Week 2023 in a family friendly atmosphere at the Pedalpalooza Festival in Ringsend Park.
Pedalpalooza is brought to you by Dublin City Council, supported by the Department of Transport organised by Archetype Events.  
For more information, visit: Pedalpalooza Bike Festival
ENDS