Unlock Your Business!
The Ballymun Area Office of Dublin City Council has opened a business support initiative for small businesses in the Northwest Area of the City. The aim is to assist business owners to respond to the challenges arising from the pandemic and from Brexit.  Enterprises located in the local electoral areas of Ballymun-Finglas-Ballygall can make an application (below) to meet with a business mentor who will contact you to offer advice and guidance.
The Ballymun Area Office has formed an independent panel of highly qualified business experts.  Local business owners can avail of up to 6 hours of sessions with one of these experts who may assist in the following key areas:
Business and Financial planning

Business strategy

Performance management

Sales & Marketing

Digital marketing

Advice on funding

Business organisation

Eco-Audits

Information on supports from Government and other business support agencies
Businesses should be located in Dublin City Council's Northwest Area that is the electoral areas of Ballymun-FInglas-Ballygall. If you are unsure whether your business is within the catchment area, please contact the local area office of Ballymun 01 222 5610 or Finglas 01 222 5400.  See boundary map.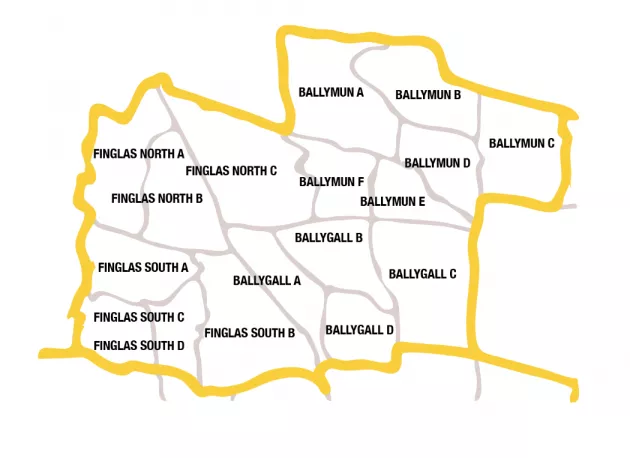 Delivery
Upon receiving your application we will carry out an initial needs assessment over the phone. Then we will assign a mentor from our panel. In light of the Covid-19 restrictions, mentor sessions will take place using online video conferencing platforms (Zoom, Skype or Microsoft Teams).
Clients will be allocated up to 6 hours with a mentor

One assignment per business is offered. 

A minimum of 24 hours' notice must be given prior to cancellation or postponement of a meeting.

Assignments must be completed with 3 months
Eligibility criteria
The initiative is open to businesses operating in the northwest local electoral areas of Ballymun - Finglas - Ballygall. 

Businesses must employ between 1 and 50 staff

Pre start-ups and early stage businesses are eligible for the scheme (further support is available from LEO Dublin City and the Dublin Northwest Area Partnership
How can a mentor help?
Our mentors will use their knowledge, skills, insights and entrepreneurial capability to provide practical advice and guidance to you. They will contribute independent, informed observations and advice to aid your decision-making.
What is the role of a business mentor?
To listen

To question constructively

To help clarify business objectives

To help the business owner identify problems and areas for improvement

To help the business owner to identify possible solutions

To share experience and knowledge in a non-directive manner

To provide structure and context for discussion

To facilitate the business owner in formulating strategy

To offer assistance in compiling a business plan
The Mentor may:
Propose possible solutions

Offer non-directive opinion and advice

Point out strengths and weaknesses in proposed projects

Act as a confidential sounding board

Assist in the preparation of business plans
The Mentor will not:
Act as a professional business consultant or coach

Become actively involved in the day-to-day management or assume the role of executive or director in the company

Do the clients' work for them

Discuss your clients or their project with others unless with prior agreement
To apply
Download the information booklet below

Fill out the online application form below

The application will be reviewed by a member of our team and if appropriate a mentor will be assigned

The mentor who will contact you within 3 working days

For further information contact

[email protected]

or phone 01 222 5652
Disclaimer
By making an application to the Northwest Dublin Area business support initiative, you are agreeing to have your application shared with one of our mentors. Any information shared is for mentor use only so advice and guidance may be given based on information shared. We will not share your details with any other body without your prior consent.  The mentors are independent professionals and are not employees of Dublin City Council but are bound by a memorandum of understanding and code of conduct.