Daithí de Róiste Lord Mayor of Dublin 2023 - 2024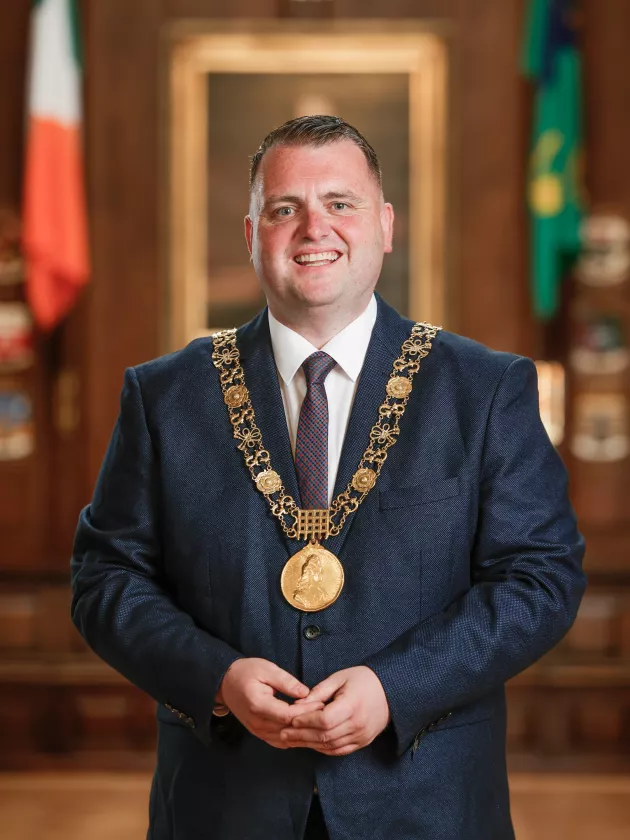 Councillor Daithí de Róiste was elected the 355th Lord Mayor of Dublin at the Annual Meeting of Dublin City Council held on 26th June 2023 in the Council Chamber of City Hall. Councillor Claire O'Connor was elected the Deputy Lord Mayor.
Daithí was born and raised in Ballyfermot, Dublin. He is the son of Michael and Catherine Roche and he has one sister, Emma. He is married to Amy de Róiste since 2016. A member of Fianna Fáil, he was elected to Dublin City Council (DCC) in 2014 at the age of 26 and was subsequently re-elected in 2019, representing the Ballyfermot/Drimnagh local electoral area. 
He is a member of DCC Strategic Policy Committees (SPC's) on Finance and Planning and a member of the Citywide Joint Policing Committee since 2014. He is also a member of the budget consultative group of the Council.
Councillor De Róiste graduated with a degree in History from University College Dublin and a Masters in Public Affairs from DIT (TUD). He has worked in marketing and communications for over a decade. He has been actively involved in his community since he was a teenager: leading young first aid groups, supporting Irish language youth clubs and GAA clubs, serving on the board of a local primary school, and campaigning on local issues such as suicide prevention. He is the honorary President of Ballyfermot United
The Lord Mayor is addressed as "Lord Mayor of Dublin Daithí de Róiste" or "Lord Mayor Daithí de Róiste".