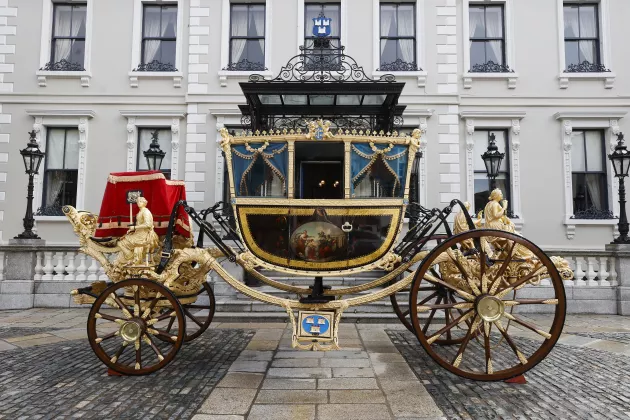 The Lord Mayor's Coach, in situ at the Mansion House
Around 1757, a highly ornamented coach was built for the Lord Mayor of London.  The civic authorities in Dublin, then entering a period of great prosperity, believed the Lord Mayor of Dublin should also travel in a coach reflective of his position. The Marquess of Kildare therefore donated a vehicle suitable for civic use.
In July 1789, when the Kildare coach was adjudged to be worn out, a replacement was ordered. Dublin at that time had a substantial coach building industry with an excellent reputation and more than 1,900 men employed in up to forty factories. The order for the new Mayoral coach was placed with William Whitton, one of three vehicle builders located in Dominick Street.
The highly decorated coach, delivered in 1791 and described as brancard and double bowed, is 24 feet (7.3m) long, 8 feet (2.4m) wide and 11 feet 6 inches (3.5m) high. Its suspension was by whip springs and straps. It was intended to compete in splendour with the coach delivered in 1790 to Lord Clare, Lord Chancellor of Ireland.
When the provision of the new mayoral coach was first mooted, the cost was set at £600, but this was later raised to £1,200. Whitton's final bill, submitted in January 1792, totalled £2,690, an enormous sum at that time. However, this was considered good value, especially in view of the vehicle's marvellous paintings and carvings, a brilliant celebration of Dublin craftsmanship. In that era, the Guilds, many of whose members were involved in the various skills that had gone into building the coach, dominated the Corporation or City Assembly and could therefore take justifiable pride in their creation. Sadly, William Whitton died in November 1792 without recompense, payment later going to his widow, Eleanor.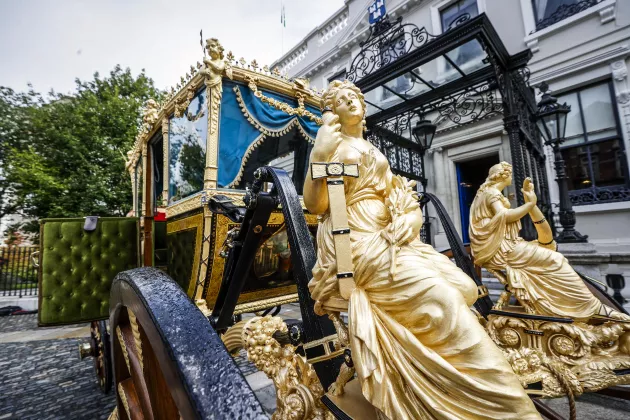 Carving of Lady & Sword - Lord Mayor's Coach
The Lord Mayor's coach made its first public appearance on 4th November 1791 in the annual ceremonial procession that marked the birthday of King William III. Lord Clare's coach, which was built in London, was also in the procession, but the Dublin vehicle, a virtual art gallery on wheels, easily won public appreciation. The vehicle won its greatest compliment in 1808 when a new coach for State use in London was modelled on it.
Celebrations, many of them centred on royal birthdays or anniversaries, were important occasions on which the Lord Mayor's coach was used during its earlier years. From the 1840s onwards, as the composition and politics of the Corporation changed, it appeared less frequently, but was renovated in 1897. It was housed in the stables at the rear of the Mansion House and was certainly there as late as 1919. After independence, it led a precarious existence, being looked after at different times in Hutton's of Summerhill and the National Museum. Its last use before going into protracted storage was during the Eucharistic Congress in 1932. In later years, it was kept at Thomas Street Fire Station, where a dust sheet covered it. By 1949, it was stored at the Royal Hospital, Kilmainham, with other historic vehicles, and its condition was said to be poor.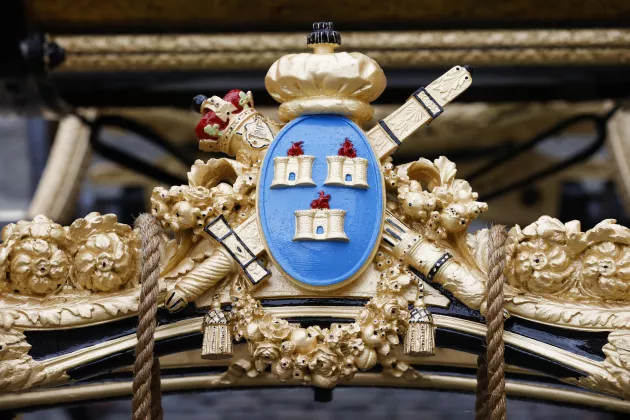 Lord Mayor's Coat of Arms - Detail on the Lord Mayor's Coach
When the Corporation decided, in 1975, to restore the coach, it was delivered to the Mechanical Division's Workshops at Stanley Street (now Stable Lane). The renovation work was carried out by a team of ten and included a coach trimmer from Inchicore Railway Works, as well as art conservators from the National Gallery and National Museum. While the restored coach was a museum piece par excellence, it was also regarded as a working vehicle to be used on ceremonial occasions, and made its first reappearance in the 1976 St. Patrick's Day Parade. Since then it has continued to lead the annual St. Patrick's Day Dublin Parade and brings the Lord Mayor to the RDS to open the Dublin Horse Show every August.