Lunar New Year reads for children
Published on 18th January 2023
Dublin Lunar New Year festival runs from 20 - 29 January with lots of events and celebrations taking place around Dublin. 2023 is the year of the Rabbit which symbolises peace, prosperity, and luck in Chinese culture. Find out what's on for Dublin Lunar New Year.
To celebrate the Year of the Rabbit (and Cat), we have put together a list of their favourite Lunar New Year titles, with tales for all the family to enjoy. Immerse yourself in the history and traditions of the Lunar New Year, and learn about how the holiday is celebrated in different countries.
We've picked a selection of picture books to share with your toddlers and preschoolers and chapter books, arts and crafts and non-fiction books for primary school children; as well as some bilingual books to introduce your child to Chinese language. Browse the full list on our catalogue.
Zheng He: the Great Chinese Explorer by Li Jian.
Follow the adventures of the great Chinese explorer Zheng He (1371-1433) during the renowned Ming Dynasty in this illustrated bilingual book. The young Zheng He dreamed of foreign lands, his imagination awakened by a porcelain vase his grandfather and father brought home from overseas. It became his goal to find this stunning cobalt colour but the road to fulfilling this dream was not a straight one.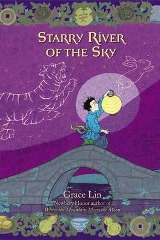 Starry River of the Sky by Grace Lin
The moon is missing from the remote village of Clear Sky, but only a young boy named Rendi seems to notice! Rendi has run away from home and is now working as a chore boy at the village inn. He can't help but notice the village's peculiar inhabitants and their problems. But one day, a mysterious lady arrives at the inn with the gift of storytelling, and slowly transforms the villagers and Rendi himself.
Origami Festivals Chinese New Year by Robyn Hardyman.
This book explores the festival of Chinese New Year and how people around the world celebrate it and features eight simple origami projects.
The Story of Wan-Nian's Calendar by Xue Lin.
The story behind the traditional Chinese Calendar and how the Chinese New Year came into being. Picture book with parallel text in English and Chinese, translated from Chinese.
Story of the New Year Beast by Xue Lin.
Where does the New Year beast come from and why does it appear during the Chinese New Year? This Picture book with text in English and Chinese explores this legend.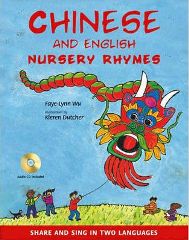 Chinese and English Nursery Rhymes by Faye-Lynn Wu.
This multicultural book teaches classic fairy tales in both English and Mandarin Chinese and includes a CD so you can sing along.
Peng's Fun with Chinese Characters for Children
Help your child learn Chinese the fun way. Featuring over 100 essential Chinese characters for beginners. Humorous illustrations, clear explanations and plenty of examples all help to demystify the Chinese language by deconstructing the Chinese characters.
Chinese Myths. illustrated by LeUyen Pham, edited by Mei Lan Frame.
This collection of traditional Chinese myths includes stories like 'Mulan', 'Pan Gu Created Heaven and Earth' and 'Warrior Gunagan'.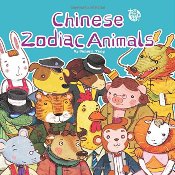 Chinese Zodiac Animals by Sanmu Tang
This book introduces the twelve animals of the Chinese zodiac, eleven real-life creatures and one mythical one - the dragon, and profiles the good and bad characteristics of each one, with advice on behaviour, career, finances, and lucky colours.
Chinese New Year by Nancy Dickmann.
This book introduces readers to the sights, sounds, foods, and gifts of Chinese New Year and discusses the history of this happy time of year.
Online Resources
LOTE4Kids: to support kids learning languages, LOTE4Kids offers over 800 book titles in 30 languages including English, Cantonese, Korean, Mandarin.
Learn more: For more information on the Lunar New Year and how it is celebrated throughout the world, check out the online encyclopaedias in Dublin City Libraries' extensive range of online resources.
World Book Kids and World Book Student
Encyclopaedia Britannica, Encyclopaedia Britannica Junior and Encyclopaedia Britannica Student.