The deadline to pitch to the Crowdfund Dublin City fund is Wednesday 29th November. You must be pitched to the fund, verified and live by this date. As the verification process can take a few days, we recommend that you submit for verification as soon as possible.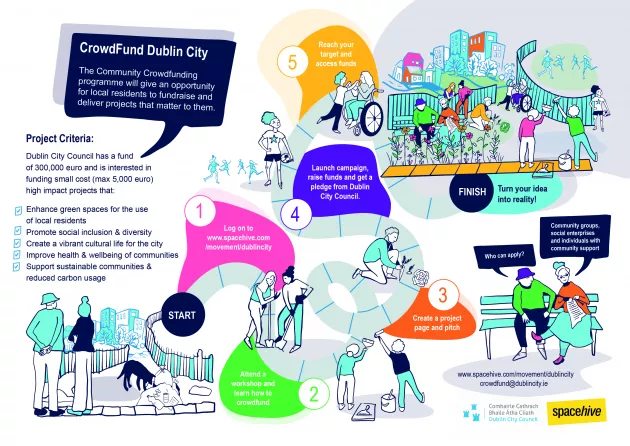 Dublin City Council is working with community fundraising platform Spacehive to launch an exciting opportunity for local residents to fundraise and deliver projects that matter to them. 
This community crowdfunding programme will give residents in the Dublin City Council administrative area, the unique opportunity to crowdfund innovative locally-led projects that will bring together funding and support from neighbours, community networks, businesses and the Council.
Projects crowdfunded on Spacehive will help realise Dublin City Council's vision of a dynamic, sustainable city that is future-ready, built on thriving, inclusive communities, a strong economy, a vibrant cultural life, and connected growth. From community gardens and allotments; sustainability and environmental projects, to energising spaces with art projects and murals, we can't wait to hear the ambitious ideas that Project Creators want to launch. 
Dublin City Council has a fund of €300,000 and is looking to invest in projects that will enhance green spaces, create colourful, vibrant and inclusive public spaces, or support sustainable communities and environmental initiatives.
To view this, you must update your

Fund information
The €300,000 Crowdfund Dublin City fund will support locally-led projects across the city, giving communities the opportunity to deliver exciting projects that have the backing of the community and the Council alike. 
Depending on the nature of your project, you might also be matched with other funds available in your area. 
Who can apply for funding?
Community groups, social enterprises and individuals with community support could potentially receive a pledge of up to 50% of their crowdfunding target, capped at €5,000. This contribution from Dublin City Council is pledged directly into your crowdfunding campaign alongside contributions from the community. 
Please note: private companies are not eligible for this fund. 
Project criteria: 
Dublin City Council is interested in funding small cost but high impact projects that: 
Enhance green spaces for the use of local residents

Promote social inclusion and diversity

Create a vibrant cultural life for the city

Improve the health and wellbeing of communities

Support sustainable communities and reduced carbon usage

Crowdfund Dublin City can support:

Projects submitted by voluntary and community groups

Projects submitted by individuals who have the support of their community
Our Spacehive microsite is now live, visit; https://www.spacehive.com/movement/dublincity