The spaces and amenities that surround you in Dublin like roads, streets, lanes, parks, squares and bridges are sometimes known as the public realm.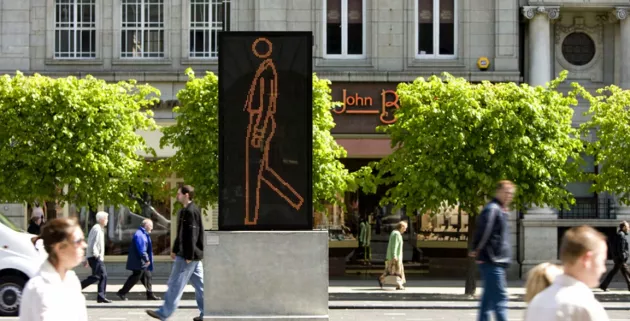 These spaces are vital for the life of the city, that's why Dublin City Council is committed to investing in them.
Your City, Your Space; Dublin City Public Realm Strategy 2012
The public realm is an important part of Dublin's identity, of how we understand ourselves and how we want to present ourselves to others. It contributes to Dublin's competitiveness both by influencing the image of the city abroad and by being attractive for people who live in, work in or visit. The public realm is vital to our city life and this importance requires us to understand it and influence its future. 
The public realm generally refers to all areas to which the public has access (such as roads, streets, lanes, parks, squares and bridges and open spaces). This includes the publicly available space between buildings, along with the spaces and the buildings or other structures that enclose them.
Dublin City Council established a multi-disciplinary, cross departmental group to address identified challenges in the public realm and to document and bring forward policies and projects to address these shortcomings. The group advocates for universal design principles as a standard for planning and design with the ambition to deliver public space of quality which is safe and easy to navigate.
Grafton Street Quarter Public Realm Plan                                                  
Dublin City Council advocates for public realm that are; easy for all to use regardless of age or ability, incorporate universal design principles, welcoming and comfortable, celebrate unique spaces, create areas where people can get together and show the city to its best advantage.
This Grafton Street Quarter Public Realm Plan sets out Dublin City Council's context, vision and design principles for the delivery of an enhanced public realm for Dublin's premier shopping street and its environs. The area centred on Grafton Street and its supporting network: St. Stephen's Green to the south, Trinity College and College Green to the north, South Great George's Street to the west, Dawson Street and Molesworth Street to the east.
This Plan complements Your City, Your Space; Dublin City Public Realm Strategy. It also provides a strategic basis for environmental enhancement and sets out the individual measures necessary to transform the area's public realm.
The Heart of Dublin; City Centre Public Realm Masterplan
Dublin City Council's Public Realm Masterplan builds on the Public Realm Strategy. Focusing on densely-used public spaces and the needs pedestrians and cyclists, it lays out clear guidance and defined priorities for Dublin City for the next 20 years. ­
The Masterplan outlines 21 projects and three public realm plans to be delivered. To learn more, read The Heart of Dublin City Centre Public Realm Masterplan (2016).
Docklands Public Realm Plan
The publication of the Docklands Public Realm Masterplan is designed to accompany and support the North Lotts and Grand Canal Dock SDZ Planning Scheme 2014 in achieving its ambition to create "a model of sustainable inner city regeneration incorporating socially inclusive urban neighbourhoods, a diverse, green innovation economy contributing to the prosperity of the locality, the city and country, all supported by exemplary social and physical infrastructure and a quality public realm integrated with the wider city".
The Public Realm Masterplan covers a 60 hectare area within the SDZ and guides the design and layout of streets and parks, together with guidance on palettes of materials and street furniture. It includes strategies to animate the Liffey, Docks and Campshires and encourages a wide mix of recreational activities and events to attract residents, workers and visitors to the area. It will among other things provide guidance to design the urban environment for an exemplary world-class maritime quarter with a distinctive Dublin character.
Draft Temple Bar Public Realm Plan
The Public Realm Group sought to develop a shared long-term vision for Temple Bar that delivers a public realm of the highest quality. The vision relies on a design process to consult and collaborate with all stakeholders in developing and proposing a programme of works to the network of streets and spaces within Temple Bar that will deliver an attractive and accessible public realm for all. This document seeks to clearly express this vision in a new public realm plan for a key cultural and animated area of the city core.