School Mobility Programme
Getting children to school safely is a key part of planning for schools.  In urban areas, this means promoting various alternative means for children to get to school in a safe way, including walking and cycling.  Reducing the number of drop offs and pickups by private vehicle at the school gate will free up space at school gates to allow for safe physical distancing while reducing hazards for children walking, cycling and scooting to school. 
Dublin City Council in association with the National Transport Authority and An Taisce Green-Schools encourages schools to take the initiative and plan creatively towards the school commute that allows for safe physical distancing, vehicle-free spaces at the school gate.
School Zones
A School Zone is an initiative designed to give priority to students at the school gate by freeing up footpaths and reducing vehicle drop-offs, pick-ups and idling. The aim is to reduce congestion and increase safety at the front of school, and prioritise active travel (walking and cycling) to and from school.
School Zones aims to:
Encourage traffic to slow down in the School Zone area

Prevent parking on pavements

Encourage drivers to make drop-offs outside the School Zone area and not to stop in the School Zone area
A School Zone includes:
Line-marking stating 'School Zone' at either end of the area

Colourful circles on the road demarcating the front of school area

Pencil-shaped bollards on the footpath to prevent illegal parking

These design features assist in creating a safer, calmer, more attractive environment at the school gate.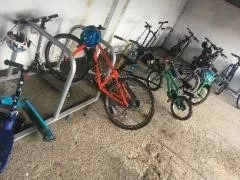 The Journey to School
Throughout the country, parents, teachers and students are working together to support active travel initiatives in their school communities. Increasing the number of students who walk or cycle to school, reduces problems of traffic and school gate congestion and creates a safer environment for all children on their journey to school.
Walking Bus
Instead of driving, a walking bus involves parent volunteers accompanying children to walk to school along a set route.
Walking busses can be set up by a group of parents with support from the school where necessary.
To help get you started, check out the Green Schools Walking Bus guidelines and the Waterford walking bus start-up pack.
Case study: read about a successful walking bus in two Galway schools. 
Park & Stride
Park & Stride initiatives encourage parents to drop children off at a car park near the school and the children walk the last part of their journey as part of a walking bus, accompanied by parent volunteers, usually 300m – 1,000m from the school. This eases dangerous school gate congestion and gives children some exercise and fresh air before they start their school day.
To help you get started, check out the Living Streets guide for setting up a Park & Stride scheme.
Case study: read about the Park & Stride initiative in Drogheda.
Cycle Bus