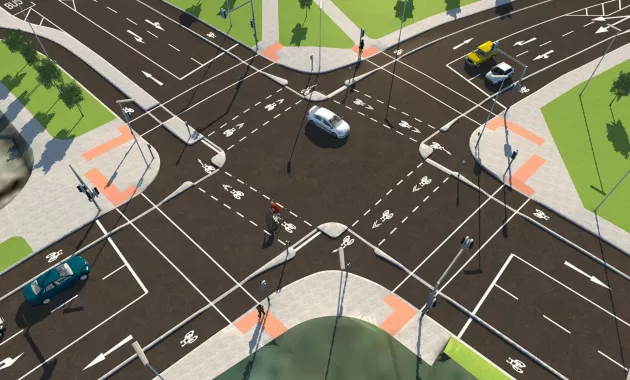 Dublin City Council will shortly be rolling out protected junctions at a number of locations around the city.
What is a 'Protected Junction'?
A 'protected junction' is a road junction where pedestrians, cyclists and vehicles are separated from each other as they move through the junction. The aim is to make the junction safer for all road users, and particularly for those on bicycles.
Instead of bicycles mixing with traffic, and waiting in the middle of the junction to make a right-hand turn, the new design provides a safer option.
Pedestrian, cyclist and vehicle movements will all be controlled by traffic signals, each road user shall wait for the green light and move forward when it is safe to do so.
Left turning vehicles must take care and yield to cyclists who are travelling straight through the junction
The protected junctions provide the following benefits:
A safer way for all road users to travel through the junction

Crossings for pedestrians are improved and separated from the cycle crossings

Segregated cycle ways for cyclists, protected by concrete islands and kerbs

Dedicated cycle signals and advance starts will be provided for cyclists
The first location where these protected junction will be located is Balbutcher Lane in Ballymun with the scheme due to open before the end of December 2020.
In addition to the physical kerb separation, the following measures will be piloted at the Balbutcher Lane Junction and monitored to assess their effectiveness:
Flashing amber arrow signal– this will warn left turning vehicles that they need to check and yield to cyclists before they make the left hand movement.

Flashing amber road studs at the cycle crossing point-these will flash while traffic on the opposing arms have a green light and will alert left and right turning vehicles that they need to yield to cyclists crossing the junction.
Watch a video to show how protected junctions work: