Belmayne Main Street and Belmayne Avenue Scheme
Dublin City Council are commencing work on the Belmayne Main Street and Belmayne Avenue Scheme. The proposed road scheme involves the new road construction at Belmayne Main Street from Malahide Road to New Priory and road improvement works at Belmayne Avenue and Parkside Boulevard.
The scheme will include a new bus gate junction at Malahide Road/Mayne River Avenue and will also include new bus lanes, traffic lanes, signalised junctions, parking, footpaths, landscaping works and provide safer pedestrian and cycling facilities for the community. The new road scheme will facilitate the development of adjacent lands and a new town centre.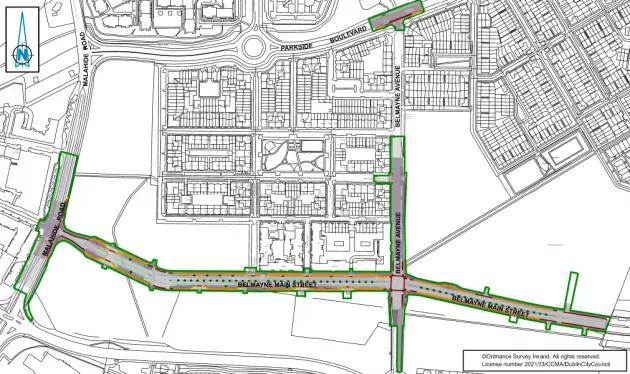 The proposed scheme includes:
Full depth road construction, road resurfacing works, cycleway and footway construction;

Installation of bus stops and associated infrastructure;

Installation of watermains, drainage, public lighting and other utilities;

Undergrounding of existing 38KV overhead powerlines;

Signalised pedestrian and cyclist crossings;

Installation of new signage and road markings along the route;

Landscaping works
See drawing above for Scheme location and layout.
Contractor Details
Dublin City Council has engaged the following main Contractor for the works:
Coffey Construction (I) Limited,
Moanbaun,
Athenry,
Co. Galway
Phone:  (091) 844356
Fax: (091) 844519
Email:   [email protected]
Web:   http://www.coffeygroup.com
For further information or if any particular issues arise during the contract, please contact the Coffey Construction (I) Ltd. Community Liaison Officer, Siobhan McDonnell mobile phone no. +353 86 3877875
Works are commencing in October 2021 and are expected to be completed by end of 2022. Working hours will be mainly 07:30-17:30hrs, Monday to Friday.  Occasional evening and weekend work (particularly at road junctions) may be required.
Access to premises: pedestrian access to premises along the Scheme will be maintained at all times during the Works.  When excavating the road outside individual premises, vehicular access may necessarily be temporarily interrupted. The contractor will liaise with those affected in advance of the work to minimize the disruption.
Similarly, access for emergency services, and refuse collection, will also be maintained. There will be a site compound set up south north of Belmayne Main Street adjacent to New Priory on Belmayne Main Street. Access to the compound will be through gates on New Priory.
Acknowledgement:
Dublin City Council apologies for any inconvenience caused and seeks the public's understanding and cooperation during the course of these Road Improvement Works.