The 12th Annual Sir John T. Gilbert Lecture
Published on 28th January 2009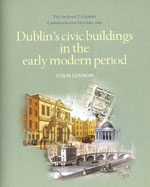 Early modern Dublin was a massive time of growth from Dublin as it transformed from a small medieval city to the modern city we recognise today. In this lecture, 'Dublin's civic buildings in the early modern period' Professor Colm Lennon takes us on a journey through the city, highlighting the key buildings, many of which have become landmark features of Dublin. Professor Lennon draws on sources including Malton's prints and famous maps of Dublin by Rocque, Brooking and de Gomme to trace the development of civic buildings in the 17th and early 18th centuries.
The twelfth annual Sir John T. Gilbert Lecture was recorded on 22 January 2009 at Dublin City Library and Archive, Pearse Street.
This lecture was published by Dublin City Public Libraries in 2010. 
Thank-you for listening! To hear more, please subscribe to the Dublin City Libraries and Archive podcast on iTunes or SoundCloud.