1916: How will you remember?
Published on 7th November 2016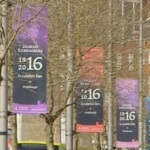 "Dublin Remembers 1916" has been an extensive series of lectures, talks by expert historians, exhibitions and conferences in Dublin libraries, City Hall, Dublin City Gallery The Hugh Lane and other venues in the city throughout 2016.
A range of history-based activities and initiatives were delivered, designed to deepen and broaden our understanding of the events of 1916 and that pivotal period in our history.
There were a number of formal commemorative events, focused on remembering and honouring those who took part in the Easter Rising, and especially those who gave their lives.
Banners and flags commemorating the Rising were mounted on flagpoles and lampposts at various locations in the city. Ceremonial events such as the unveiling of commemorative plaques at 1916 garrison sites around the city also recognised the importance of these locations in Dublin during that Easter Week.
Dublin City Council has been proud to support and enable the Ireland 2016 state programme of formal commemorative events taking place in Dublin during 2016 for the centenary of the 1916 Rising. All the cultural services of Dublin City Council, including Dublin City Gallery The Hugh Lane, the Arts Office, the Heritage Office, the Libraries and Archives have contributed to the commemorations programme.
1916: How will you remember? from Dublin City Libraries on Vimeo.
To view this, you must update your