1916 Rising Dublin Fire Brigade log-book goes on display
Published on 20th November 2014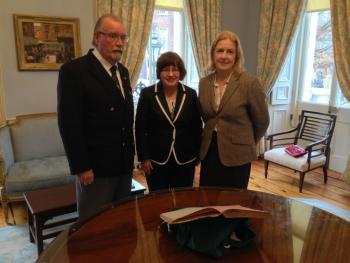 Dublin City Council has acquired a unique Dublin Fire Brigade Ambulance log-book which covers the period of the Easter Rising, 24-29 April 1916. The log-book relates to Tara Street Fire Station and records hour-by-hour the response of the Dublin ambulance service to those injured in the Rising.
Right: Fire Brigade historian Tom Geraghty, City Archivist Mary Clark and City Librarian Margaret Hayes seen here with the Fire brigade log book. 
view the PDF document in an external viewer. View a transcript of the Logbook. 
Note: Copyright: Dublin City Council
Details are given regarding the call-out of ambulances throughout Easter Week, giving names, addresses and ages of victims with an account of injuries suffered and the name of the hospital to which they were delivered.
Victims include civilians (including children) and military personnel - but not members of the Irish Volunteers or Irish Citizen Army, as each garrison had its own cohort of nurses. As the week progresses, there are more entries recording fires in the city and towards the end of the week, both the ambulance and fire brigade are forbidden by Lieutenant Myers from responding to calls within the area of the Rising, as he deemed this to be too dangerous. Inserted into the volume are loose-leaves giving an account, compiled in July 1916, of the activities of Thomas Street Fire Station during the 1916 Rising.
The 1916 Rising began at 12 noon on Monday 24 April 1916. The Tara Street ambulance was called out to Charles Street at 1.52 p.m. and left three soldiers from the 6th Lancers dead and two wounded in Jervis Street Hospital.

The first civilian casualty attended by the Tara Street ambulance was John Reilly of Rathfarnham who was collected in Abbey Street and was 'wounded in Stomack.'

The Tara Street ambulance's first female casualty was Alexandra Wilson aged 18 of 23 North Brook Avenue, who was collected in North Earl Street suffering from a bruised shoulder struck by rifle.

The first child collected by the ambulance during the 1916 Rising was James Hoare, aged 13 of 26 North Cumberland Street who was cut on his nose when plate glass fell on him.
Lord Mayor Christy Burke was today presented with the Log-Book in the Mansion House. The Lord Mayor remarked "I am delighted that Dublin City Council has obtained this important contemporary record of the 1916 Rising. This volume details the impact of the Rising on Dublin and particularly the citizens who were caught up in these historic events. It also records the bravery of those who staffed the ambulance and fire brigade services, continuing to look after the public even under fire."