Published on 4th April 2016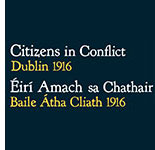 Citizens in Conflict #8. In 1916 the Dublin Harbour constituency was represented at Westminster by Alfred (Alfie) Byrne MP.  Dublin Harbour contained Mountjoy Ward, North Dock Ward, Rotunda Ward, (except a portion in the College Green constituency) and the portion of South Dock ward north of a line drawn along the centre of Great Brunswick Street. It also included the portion of Trinity Ward lying north of a line drawn along the centre of Great Brunswick street and the towns of Ringsend and Irishtown as well as sections of Beggar's Bush. About 8,000 men had the vote in the constituency.
Until his death in 1915 the local MP was William Abraham, aged 73, who lived in London, though originally from Limerick. Abraham's background was in the Land League and he had been associated with craft unions in the 1880s, but those days were long behind him. Harbour contained a very large working-class population and trade unionist William O'Brien suggested that it was the 'best Labour seat in Dublin and win it we must.' James Connolly was suggested as a candidate. However Connolly declined to run and instead three nationalists contested the seat. Pierce O'Mahony, an old Parnellite, was one of the very few Home Rule MPs to have associated with the workers in 1913. Alfie Byrne, on the other hand, was the owner of the Verdon Bar, at 37 Talbot Street and a city councillor. He lived on the North Strand. and had been caricatured by Jim Larkin in the Irish Worker as 'Alf Bung' a man who entertained 'slum landlords, scabs, prostitutes' bullies … Hibs, Orangemen…the brothel-keeper (and) the white slaver' in his pub. But Byrne won the election by 2,200 votes to O'Mahony's 917. O'Mahony had strongly supported John Redmond and recruitment, while Byrne had opposed conscription, war-taxes and the war effort in general. He had shared anti-conscription platforms with James Connolly among others. The result is an indication that anti-war feeling was growing in Dublin.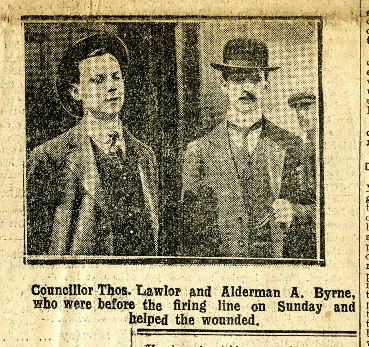 Image above: "Councillor Thos. Lawler and Alderman A. Byrne, who were before the firing line on Sunday and helped the wounded." Irish Independent, 29 July 1914 reporting on the shooting of three civilians at Bachelor's Walk on 26 July 2014, in the wake of the Howth gun-running (click to view larger image)
The make up of a protest meeting in September 1915 at the Phoenix Park, shows the extent of cooperation between the various elements. Among those in attendance were Byrne, Thomas Farren president of the Trades Council, veteran separatist Henry Dixon, Sinn Féin's Tom Kelly, The O'Rahilly, Councillor Lawrence O'Neill, James Connolly, feminist Hannah Sheehy-Skefffington, Piaras Beasley of the Volunteers and Larry Ginnell MP, nationalist MP for Meath.
After the Rising Byrne involved himself in campaigning for prisoners, visiting internees in Britain as Cumann na mBan activist Brigid Foley remembered 'we were entertained to lunch by Alfie Byrne in the House of Commons and to tea-with strawberries and cream- at Lyons' Corner House. He came to the station with us and loaded us down with boxes of chocolates.'
Nevertheless in 1918 Byrne lost his seat to Sinn Féin's Phil Shanahan. However after independence he would have a long career in both local and national politics.
About
This article is one in a series created by Dr Brian Hanley, historian-in-residence at Dublin City Library & Archive, to coincide with the exhibition 'Citizens in Conflict: Dublin 1916 / Éirí Amach sa Chathair: Baile Átha Cliath 1916', running at Dublin City Library & Archive from January to June 2016.