Anne Kennedy Photograph Collection
Published on 14th August 2017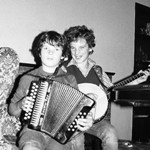 Anne Kennedy was a notable poet, writer, and photographer. She was born Anne Spaulding on 19 March 1935 in Los Angeles, California to Beatrice Clarke and Easton Spaulding. She attended the prestigious Marlborough School in Beverley Hills as Anne Hoag after her mother's marriage to her second husband, Hallack Hoag.  At age 16, Anne went to study English at Stanford University. In 1955, she married Donald Nealy, with whom she had two daughters, Allison (1956) and Catherine (1957). After her divorce from her first husband, Anne returned to Los Angeles where she met her second husband, Lewis Judd. They married in upstate New York in 1961 and had a daughter, Stephanie, in 1963, by which time they had moved back to Los Angeles. During the 1960s, Anne worked as a high school teacher and lived in the Laurel Canyon area of Los Angeles. As a lifelong lover of jazz, together with her close friend and jazz trumpeter Rex Stewart, she interviewed many jazz musicians living in the L.A. area during this time. The oral material they gathered was contributed to the Duke Ellington archive at the Smithsonian Museum of American History, Washington, D.C. in 1993.
View Anne Kennedy Photographic Collection Image Gallery.
In the early 1970s, Anne moved to Orcas Island, the largest of the San Juan Islands in the Pacific Northwest with her then partner, Mark P. J. Kennedy. Anne and Mark had a daughter, Maura, in 1973 and a son, Miles, in 1974, during which year they were married. She also gained two step daughters, Deirdre (1957) and Serena (1968) Kennedy, through her third marriage. Her first book, Buck Mountain Poems (Salmon Poetry, 1989), was a poetic study of her experiences living on Orcas Island. The book was illustrated by her daughter Allison.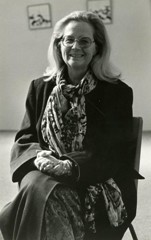 In 1977, Kennedy and her family moved to Salthill in Galway, the birthplace of her husband, Mark. She began to take an interest in photography after taking a night class in 1982. She would often take photographs of the people, establishments, and buildings of the west of Ireland. She found the traditional culture of Ireland to be fascinating, as it was vastly different from the culture she grew up with back in the United States. Her continued interest in literature inspired her to create three photographic series in the years between 1982 and 1984: Irish Proverbs; Molly Bloom; and Finnegans Wake. Kennedy got the Irish proverbs she used for these collections from her daughter Maura's third class teacher, Sr Donatus, who was a native Irish speaker from the Donegal Gaeltacht. The Finnegans Wake series was exhibited in Kenny's Art Gallery in Galway and in Manhattan College in New York City.
Kennedy joined the Galway Writers' Workshop in 1985, where she encountered many prominent Galway writers including Rita Ann Higgins, Moya Cannon, Joan McBreen, and Eva Bourke, among many others. Kennedy's work was published in a wide variety of journals in Ireland, including The Salmon, The Honest Ulsterman, and Fortnight. She was also published in American journals, including Southern Humanities Review and Free Lunch. Her second book of poetry, The Dog Kubla Dreams My Life (Salmon Poetry, 1994) reflects on her experiences in both America and Ireland. R.T. Smith, award winning American poet, fiction writer, and editor, had this to say about the book:
"The quietly dazzling poems of The Dog Kubla Dreams My Life result from scruple, craft and a compassionate vision of the human predicament across decades and on both sides of the Atlantic, as Anne Kennedy continues to compose that rare species of poems that cannot be written quickly but must be lived image by image, and which comprise a powerful witnessing to sorrow and sanctuary. Her words shimmer with an excitement at once beautiful and wise, and which I believe will be with us for a long time."
Kennedy was also a regular contributor to RTE Radio 1's Sunday Miscellany, an Irish program that has regularly featured essays, poetry, appreciations, and travel writing since 1968. She also taught creative writing in the 1990s in the Galway Arts Centre. There, she helped to encourage many contemporary west of Ireland poets, including Tom French and Sarah Clancy. She also won the Cuirt International Poetry Festival Prize in 1988. Kennedy died on 29 September 1998 and is buried at Rahoon Old Cemetery in Galway.
The photographs in this collection were taken by Anne Kennedy in the 1980s and 1990s. They often feature "characters" from the western counties of Ireland—unique individuals who caught Kennedy's interest. Kennedy was fascinated by traditional Irish culture and as such would often take photographs of the traditional shops, trades, and performers she encountered across Ireland.
About the Anne Kennedy Photographic Collection
The collection also features material pertaining to notable people, events, and locations in Irish history, culture, and literature. It contains photos of prominent Irish writer and poet Rita Ann Higgins and the opening night of her play, Face Licker Come Home, which premiered in 1991 at the Punchbag Theatre in Galway City. The collection also includes several photos of Eugene Lambe, a well-known traditional Irish musician and instrument maker, at his Fanore Schoolhouse workshop in Co. Clare. Many photographs of Rahoon Flats (1972-1998), a large and notorious Galway public housing apartment complex, are also featured in the collection. Photographs of the work and home of sculptor John Behan, best known for his works Famine Ship (1996) and the Flight of the Earls Monument (2007), are also included in the collection. An image of protestors regarding the 1980-1981 Hunger Strikes is also featured in the collection.
Also included in the collection are photographs of Tigh Neachtain Bar; Kenny's Bookshop and Art Gallery; Corcomroe Abbey; the Galway Early Music Festival; the Fishery Watchtower Museum; and buildings and people from Co. Galway, Co. Dublin, Co. Clare, and Co. Mayo.
The photographs in this collection were provided to the Dublin City Library and Archive by Anne Kennedy's children, who we thank greatly for their time, knowledge, and generosity.
This gallery was created by Alicia Rosenthal, who interned with the Dublin City Library and Archive in the summer of 2017 through EUSA. Alicia is an undergraduate student at Boston University studying English and History. She hopes to go on to get her Masters in archival preservation or to pursue a Ph.D. in literature. She would like to give her thanks to Dr. Enda Leaney for all of his support and guidance and for allowing her the opportunity to intern with the Dublin City Library and Archive.
We apologize for any errors regarding the information in this collection. Corrections will be made as we are made aware of them.
View more photos from the collections of Dublin City Library and Archive at digital.libraries.dublincity.ie/vital