Bargain Town: Shops and Shopping in Dublin
Published on 2nd November 2021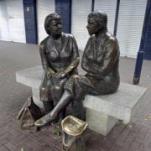 This gallery consists of images of shops, stalls, and markets from the Dublin City Council Photographic Collection. A few of these are still open for business but most have closed their doors. It is hoped that these images will serve as memory triggers for any Dubliner who was ever 'sent out for the messages'.
Further Resources
Dublin City Libraries has a wide range of sources on the social, political, and cultural history of Dublin, some of which are available online and some through the Dublin City Libraries network.
The Reading Room, Dublin City Library and Archive, Pearse Street holds a wealth of material on the history of Dublin, including books, pamphlets, journals, street directories, and almanacs.
The following online resources can be accessed free of charge at your local library. Ask library staff for information and assistance.
For further reading, consult the Library Catalogue.